Broadcast News
12/03/2019
Ross Video Launches Ultricool™ And Ultrix-FR5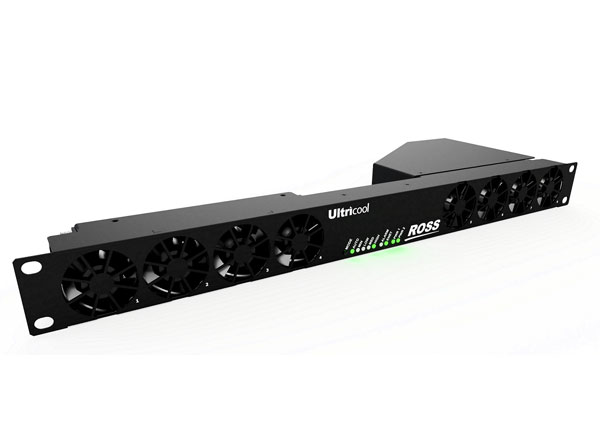 Ross Video has launched two new products, Ultricool™ and Ultrix-FR5.

The company announced the solutions at CABSAT Expo in Dubai, which is taking place from 12-14 March.

Ultricool™ is a highly-configurable 1RU external cooling system designed to complement the thermal performance of existing rack-mounted equipment in extreme conditions or confined spaces. Ultricool can be configured to provide directional airflow from front to back, front to right side, or front to left side depending on equipment requirements. Offering both automatic and manual control options (via Ross Video's DashBoard control platform, direct front panel override and/or RossTalk), Ultricool ensures that your rack-mounted products work at their optimum temperature and helps avoid the unnecessary shut-downs and reboots that can be caused by overheating.

Todd Riggs, Marketing Product Manager for Connectivity at Ross Video, said: "When it comes to live production, not all products enjoy life in the ideal scenario of a heavily air-conditioned rack room. Our customers often work in difficult, cramped and hot conditions and they need their products to perform regardless of the hostility of the environment. Customers are also under increasing pressure to reduce their equipment footprint and are packing more production horsepower into racks and flight cases, leaving little room for airflow. From live sport in the driest of climates to a full-loaded flypack working under the stage at a music concert, Ultricool will ensure that everything in your rack stays cool and will help safeguard your mission-critical content."

Also new for CABSAT 2019 is the latest 3.4 version of Ultrix – the innovative routing/AV processing platform from Ross Video that can collapse up to five racks of traditional infrastructure products into one 5RU unit. Version 3.4 is a firmware upgrade (free to all existing Ultrix customers) that adds some important new features to the Ultrix suite of solutions: 

• Multiviewer Control Panel for Ultritouch – a visually intuitive new panel type specifically for the control of Ultriscape Multi-Viewers on Ultritouch. Control of layouts, PIP switching, modifying follow/non follow modes are all available directly from the panel. 
• Ultricore-SNMP – a brand new license that enables basic SNMP monitoring on Ultrix frames.  The MIB file provides SNMP traps for the Configurable frame alarms on Ultrix as well as on the power supplies and fans. 
• Ultricore DB Wizard – this wizard allows customers to create SRC/DST assignments, Levels, Multi-Viewer Head assignments and PIPs quickly. 

"The Ultrix-FR5 was launched at CABSAT 2018 and we've had an incredible year since – Ultrix has won numerous awards and enjoyed unprecedented levels of customer adoption," noted Todd Riggs. "Ultrix is a software-defined solution and part of its value and appeal lies in the fact that we can add new features and functions without customers having to invest in additional hardware; this latest release reinforces what a powerful solution Ultrix is, and we look forward to sharing it with our customers in the Middle East and beyond."  
 
Ross Video will be on booth E2-10 throughout CABSAT 2019.   
Top Related Stories
Click here for the latest broadcast news stories.