Broadcast News
10/01/2018
Ross Video To Launch New Version Of Ultrix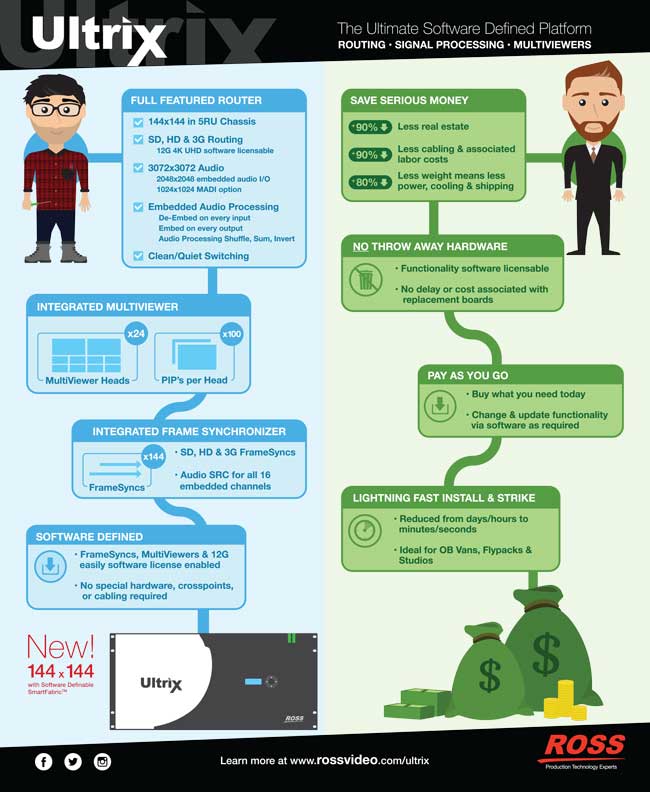 Ross Video has announced that it will launch a new version of the routing and signal processing platform Ultrix at CABSAT 2018 (Stand ZB5-A40).
Ultrix-FR5 delivers a full-featured routing platform with integrated MultiViewers and FrameSyncs in a compact 5RU chassis. The software-defined nature of Ultrix, with the ability to change and update functionality via software license means Ultrix customers only buy what they need, when they need it.
Utilising 12G chipsets throughout the entire router, it enables users to switch anything from 270 Mb/s, to single link 12G UHD signals all within the same chassis, providing a path for customers to migrate all, or part, of their facilities to UHD production. Its internal architecture uses a new, FPGA based design throughout, allowing customers to add software defined processing capabilities such as MultiViewers, FrameSyncs and others by ordering software licenses. No special hardware is required.
Todd Riggs, Business Development Manager, Infrastructure, Ross Video, said: "Broadcasters are extremely conscious of spend in the current climate and want reassurance that any investment in products now will not be compromised by changes in technology. Ultrix provides that security – broadcasters can simply turn on additional features and upgrade as required."
Features include:
• Software Defined:
No special hardware or boards required for advanced functionality
• Compact:
Up to 34x34 in 1RU, 72x72 in 2RU, 144x144 in 5RU makes it a compact routing and signal processing platform.
• Ultrimix:
Software enabled audio fabric allows users to route, process and mix a combination of over 30002 channels of both embedded and discrete audio as standard.
• Ultriscape:
Software enabled MultiViewers. Up to 24 independent MultiViewer heads in 5RU. Each head supports 100 unique PiPs, with access to all video sources in the router.
• Ultriclean:
12Gb/s video clean/quiet switch. Available on every output of every frame.
• Ultrisync:
Software enabled video FrameSync and embedded audio SRC. Can be purchased on every input.
• Fast:
Complete 12G router family
• Ultrispeed:
Software enables all ports of the router to 12Gb/s. 1 Terabit of bandwidth per RU.
www.rossvideo.com
(JP)
Top Related Stories
Click here for the latest broadcast news stories.