Broadcast News
26/01/2018
Custom Consoles Desks Chosen for RT's New Paris Studios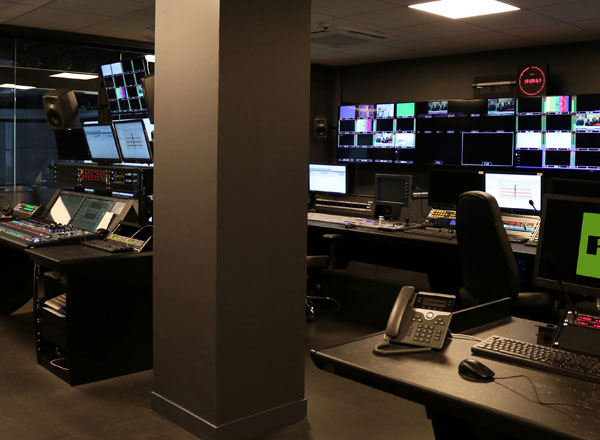 Custom Consoles, working in partnership with UK based broadcast system integrator Megahertz Ltd, has completed a large-scale studio furniture project for global news network RT. Located in Paris, the new facility includes two master control rooms, engineering and audio control, audio post-production, two dubbing suites, an Avid ProTools suite, five edit suites, and a graphics suite.
Megahertz Ltd operations manager Nigel Smith, said: "Key elements of this very high profile project included robust construction, ergonomic excellence, easy access to equipment for routine maintenance, and attractive styling.
"Custom Consoles excels in all these respects. Its Module-R series formed a basis on which we could plan precise desk configurations needed to match each specific role, with Media Wall and MediaPost providing similar design flexibility for the various monitor screen displays. EditDesk also proved ideal for the post-production and graphics suites. Delivery timescale was a crucial factor as this was a new build completed on schedule to go on air in December 2017."
MCR A is equipped with a five-seat Module-R production desk facing a 5 metre wide Media Wall. Additional desks at the rear are provided for sound director, news organiser and support engineer.
MCR B incorporates a similar production desk and Media Wall combination plus three-seat and two-seat auxiliary control desks positioned in a U formation. All six desks are equipped with supplementary equipment pods and monitor display mounts.
Engineering and audio control comprises three desks positioned in an L configuration. Largest of these is the chief engineer's desk which faces two 42 inch displays on side-by-side MediaPosts. To its right is a single-bay sound engineering position. Facing the left-hand wall is a two-seat camera control Module-R desk with each operator facing a MediaPost-mounted 55 inch display screen. CCU panels are housed in two groups along the desktop.
"For the audio post facility we selected an EditDesk specially expanded to accommodate a ProTools control panel embedded in the work surface," Nigel Smith added. "The EditDesk is fitted with two 3U-high equipment pods which are positioned left and right of the ProTools panel. Three monitor displays on operator-adjustable arms are mounted on the left-hand pod, connected to incoming feeds and to a floor-level computer adjacent to the left-side support pillar."
"Standard EditDesks proved ideal for the five edit suites, each including an 11U high side pod to house a computer and auxiliary equipment. These desks are fitted with three monitor displays and two powered near-field monitor loudspeakers, all on adjustable mounting arms. We also recommended EditDesks for the six graphics positions, positioned in three-wide back-to-back rows. These are fitted with a desk-mounted computer monitor and loudspeakers in various combinations, the sixth position currently being a non-assigned spare."
"Single-person and dual-person desks with sound-absorbent work surfaces have been provided for the dubbing suites. Each of these incorporates a 6U equipment pod in 2 wide x 3 high configuration plus two adjustable arms supporting a monitor display and microphone respectively."
customconsoles.co.uk
rt.com
megahertz.co.uk
Top Related Stories
Click here for the latest broadcast news stories.