Broadcast News
14/02/2019
Tightrope Media Systems Unveils New Software Upgrade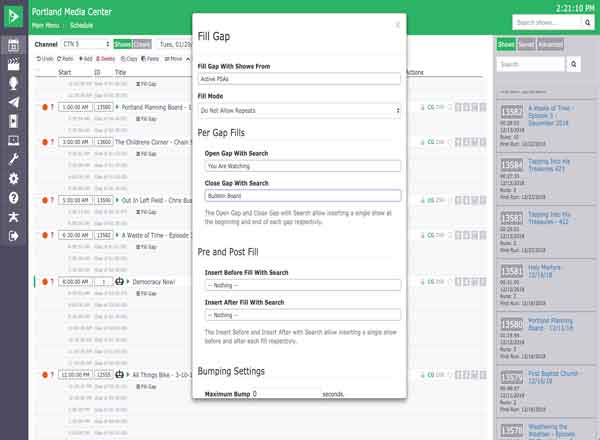 Tightrope Media Systems has unveiled a new software upgrade for its Cablecast Community Media broadcast automation, playout and publishing platform.
Cablecast 6.6 expands the system's powerful features for automating repetitive scheduling tasks, thus speeding and simplifying day-to-day programming operations for community TV broadcasters. The new version will be demonstrated in the company's suite at the Renaissance Las Vegas Hotel (Ren Exhibitor C) at the upcoming 2019 NAB Show, taking place April 8-11.
"While our recent software upgrades have added features to help PEG stations expand their reach and better engage their audiences through online and OTT delivery, version 6.6 is all about the core scheduling tasks that community TV programmers deal with every day," said Michelle Alimoradi, Marketing Manager, Cablecast Community Media. "Users switching to Cablecast from other systems have always been delighted by the time savings it offered, but we wanted to take it even further. Our goal with this release is to help them complete their scheduling in as little as half the time, by eliminating tedious, repetitious actions."
The new Gap Filler tool intelligently fills breaks between shows with content beyond just the channel's community bulletin board. Short-form videos such as public service announcements and event promos are intrinsic to community TV programming but are very tedious to schedule individually. With Cablecast 6.6, programmers can click on a gap in the schedule and select a saved search comprised of short-form content. Gap Filler will then automatically calculate and schedule the appropriate clips from that search to best fill the gap's duration. Users can define intro and outro messages – such as station IDs – to bracket the gap, while options such as "Do Not Allow Repeats" ensure that viewers don't simply see the same short-form clips over and over.
The new Auto-Scheduler feature automatically populates recurring time slots, sparing programmers from needing to schedule each episode individually. Users can define recurring time slots indefinitely into the future and set the Auto-Scheduler to dynamically populate them with the most recent show from a specified project, continually updating the schedule with the latest episode – a massive time-saver for customers running daily shows such as "Democracy Now!" Programmers also have the option of intentionally repeating a single show across all recurring slots and can flexibly override automatically-scheduled entries if they wish, with an event log reporting any such edits that superseded the defined rule.
The Gap Filler and Auto-Scheduler features both take advantage of Cablecast 6.6's new allowable date range parameters. Start and/or end dates can be set for each show to define when the content is permitted to be broadcast – thereby preventing programs from being shown too soon or after they are no longer relevant, such as promos for past events or last month's city council meeting. Gap Filler and Auto-Scheduler will automatically exclude any videos that would be outside their allowed date range, while users who attempt to manually schedule a clip for a prohibited date will receive a warning in the scheduling interface.
The Cablecast 6.6 upgrade will be available at the end of February, and will be free for Cablecast customers on active support agreements.
www.cablecast.tv
Top Related Stories
Click here for the latest broadcast news stories.