Broadcast News
22/01/2020
Granite Town Media Upgrades Facilities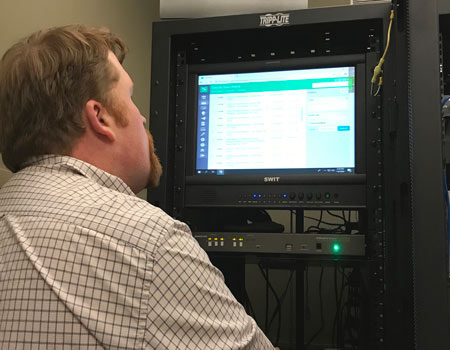 Granite Town Media in Milford, New Hampshire has upgraded its facilities with the latest production and distribution technologies.
Upgrading its long-serving automation and playout system in preparation for HD broadcasting, the station purchased a new Cablecast VIO multi-format video server with version 7.0 of the Cablecast broadcast automation software to efficiently bring content to both cable and cord-cutting audiences.
Named after the Town of Milford's historical nickname – it was once home to numerous quarries where most granite in the U.S. was mined – Granite Town Media delivers community access programming over cable television, live web streaming, social media, and OTT channels. Expecting to get its first HD cable channel early this year, the station set out in 2019 to convert its legacy analog infrastructure and equipment to high-definition SDI.
Having successfully used a Cablecast SX4 server for over eight years, it was natural that they would stay with the Cablecast Community Media platform for their next playout and scheduling system. Station media manager Chris Gentry had worked with the more recent Cablecast Flex family during his tenure at another PEG facility, but chose to wait for the newest-generation Cablecast VIO before upgrading in July.
Granite Town Media chose a Cablecast VIO 4 playout server, configured as three playout channels – one each for their Public, Education and Government offerings – and one recording input. Cablecast Live and Cablecast Pro VOD servers power the station's live streams and on-demand video library, with the cloud-based Cablecast Reflect service providing reliable stream delivery to an unlimited number of viewers. Meanwhile, Cablecast Screenweave brings their live and on-demand content to Roku and Apple TV devices.
Having previously run the station's bulletin board on a tightly integrated but physically separate Tightrope Carousel system, Gentry praises Cablecast VIO's ability to run multiple instances of the broadcast-optimized Cablecast CG software – still based on the Carousel engine – within a single unit.
Beyond the improvements visible to Granite Town Media's audience, Cablecast VIO and its accompanying version 7.0 automation software have delivered significant operational benefits and time savings behind the scenes.
The software's new confidence monitoring feature has similarly freed Gentry from his facility's walls.
www.cablecast.tv
Top Related Stories
Click here for the latest broadcast news stories.