Broadcast News
09/03/2020
Tightrope Media Systems Partners With Burbio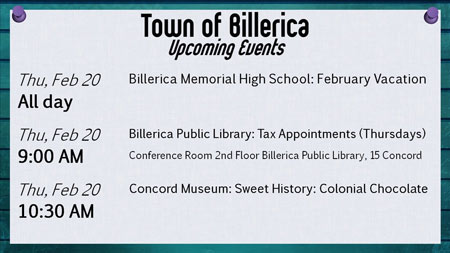 Tightrope Media Systems has forged a new partnership with Burbio, a digital platform that aggregates community event data from public sector organisations across the United States.
Integration between Tightrope's Cablecast Community Media platform and Burbio's zip code-level event database enables Cablecast customers to pull in hyper-local, automatically-updated calendar information for display in their broadcast and online bulletin boards, reinforcing their position as a crucial information resource for their community.
The two companies will highlight their collaboration at the upcoming 2020 NAB Show, taking place April 19 to 22 in Las Vegas. The Cablecast team will host attendees in Hospitality Suite 739 at the Renaissance Las Vegas Hotel, while Burbio will exhibit in the SPROCKIT startup hub in the North Hall at the Las Vegas Convention Center.
"The role of community media centers has evolved beyond their cable channels, becoming an essential communications vehicle for local residents," said Michelle Alimoradi, marketing manager at Cablecast Community Media. "We are always looking for new opportunities to support our customers' missions to keep their audiences informed and enhance their value to their communities. The ability for stations that subscribe to Burbio to bring its aggregated data into the Cablecast platform will provide significant time savings for our customers while helping cement them as the go-to resource for hyper-local event information."
The Cablecast broadcast automation, playout and streaming platform empowers community media organizations to efficiently reach both 'traditional' and 'cord-cutting' audiences across outlets ranging from cable television channels to OTT services. The tightly integrated Cablecast CG (available for Cablecast 7.0) and Carousel software (for earlier Cablecast versions) enable users to create dynamic community bulletin boards and incorporate them into their live TV and online offerings.
The automated, cost-effective Burbio service aggregates and continually updates hyper-local community event information from school districts, government, libraries, non-profits, businesses and sports leagues. Burbio's co-founder and CEO Julie Roche is a mother of four children who was frustrated by the fragmentation of event data between numerous websites, emails and apps, leading her to build Burbio's technology to organize it all in one place.
The combination of Cablecast and Burbio now lets media centers leverage this unified data to better inform their communities. Users can set parameters within the Cablecast CG or Carousel user interface to specify Burbio sources for each bulletin, and how many days or weeks of events to include – for example, pulling in a rolling seven days of school district events. The resulting bulletins are dynamically updated as Burbio refreshes its data.
www.cablecast.tv
Top Related Stories
Click here for the latest broadcast news stories.