Broadcast News
29/11/2018
Quality Media Selects Dejero Engo Mobile Transmitter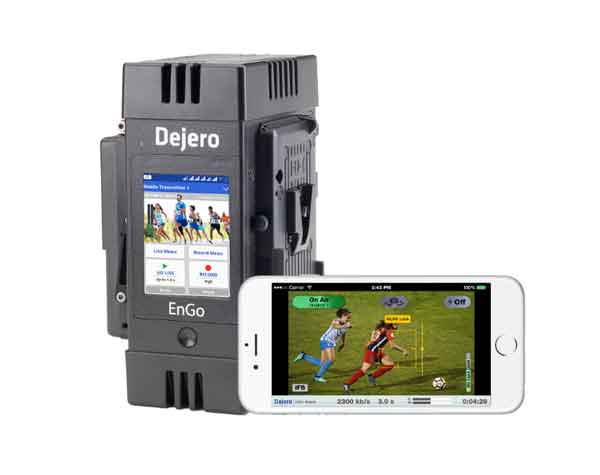 As the first production company to offer the Spanish market an established model of remote IP production, Quality Media selected the Dejero EnGo mobile transmitter and Dejero Mobile App to transmit live sports, including live football matches for LaLiga, as well as providing live feeds from the World Cup for all Spanish media.
Other live sports productions have included rally racing, weightlifting, and exclusive live coverage of Petanque, a boules-type games that has proven to be more popular than live boxing and cycling with Spanish streaming audiences. Quality Media also produces movies for Netflix among other activities.
The EnGo is an HEVC capable, compact mobile transmitter that encodes high-quality video and transmits over multiple IP networks to reliably deliver exceptional picture quality with extremely low latency — even in challenging network conditions.
"Launching our company in early 2017, during the industry's worst financial crisis, meant that we had to adapt our business model to incorporate remote IP production or perish," said Pablo Reyes, business development and production design manager at Quality Media. "With broadcasters' budgets at an all-time low and pressure to provide high-quality content at an all-time high, our existing proposals weren't hitting the right price points. We had to find a way to produce top quality remote productions without outlaying the cost of a full crew and OB van to our clients."
Quality Media realized the full potential of the Dejero EnGo when it was used during the company's hugely successful first remote IP production event in August 2017, where set-up time and consequently the cost of the operations were decreased significantly. For this national rally event, Quality Media used four cameras, with an EnGo mounted on each, to backhaul broadcast quality video to two Dejero receivers installed in a fixed master control room (MCR).
"We also love the Dejero Mobile App, as it helps us bridge the gap between traditional remote production and cloud production, opening up the possibility of creating large numbers of RTMP flows to the cloud. We plan to use mobile flows in the future which will allow us to mix up to 30 camera positions operated by AI. It is also fantastic that Dejero uses GSM modems—which means we can use the latest EnGo transmitter in any part of the world."
www.dejero.com
Top Related Stories
Click here for the latest broadcast news stories.