Broadcast News
07/11/2018
Sony Spark An SD Card Revolution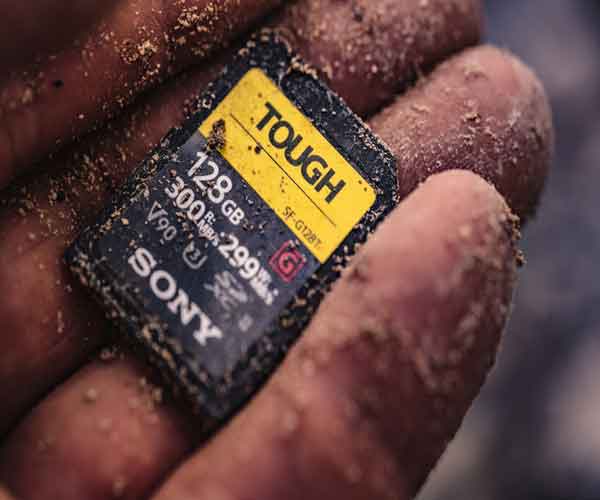 Sony recently announced the launch of their all new form factor SD card, with a TOUGH specification and name. Sony's announcement, positions this new look SD card, as the world's toughest and fastest card on the market.
They recognize that not only is card speed critical, but equally important is strength and the ability to function in all conditions. In order to deliver this TOUGH SD card, Sony has developed a single-mold production process allowing the the removal of easy-to-break and unnecessary parts. This single-mold process, or monolithic structure, completely secures the card. Unlike current SD cards, the TOUGH series have no empty voids inside the card housing, avoiding any risk from dust, water, sand or other contaminants. Each card is compliant to the very highest standard of waterproof and dustproof standards. During testing, Sony submerged their TOUGH cards in 5 metres of water for 3 days, without any impact on performance.
In addition to the monolithic features, Sony claims this is the toughest card in the world, especially with regards to bend forces, which has long been a potential weakness in heavily used SD cards. Sony's SF-G TOUGH series, can sustain an 18KG pressure on the surface of the card (based on the SD association approved tests) putting this into context; this is 18 times greater than the current SD association standard.
As both professional and digital cameras become more feature rich, the demand to capture 4K quality video, plus stills and burst shooting, creates the need for extremely fast speeds, allowing the hardware to truly perform to its maximum. With TOUGH's 299 Mbp's writing speed (the best on the market), the buffer clearing time is minimized, allowing the card to shoot up to 240 uncompressed RAW pictures in less than 25 seconds. This is double the performance of the best UHS-I pro cards. In addition, the 300Mbp's read speed, greatly improves workflow and data backup/ingest speeds.
As well as the card functionality, Sony provides complimentary software:
• SCAN UTILITY, evaluates the quality and status of your card; perfect for those critical shooting moments.
• FILE RESCUE
Last but not least, Sony is looking to offer a similar recovery service, currently offered on Sony's SxS cards; the Professional Recovery Service*. Although Sony has made a commitment to File Rescue, the introduction of the service is yet to be finalized, but is expected very soon and of course, all cards come with Sony's comprehensive 5 year warranty.
Sony's File Rescue service, is not a guarantee of data retrieval; care of all recorded data, remains the sole responsibility of the author
This article is also available in the November issue of Broadcast Film & Video
here
.
Top Related Stories
Click here for the latest broadcast news stories.