Broadcast News
07/11/2018
Fall Out Boy's World Tour Uses Pocket Cinema Camera 4K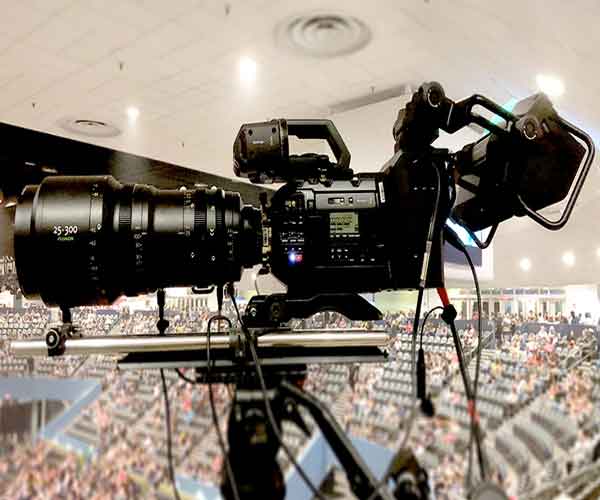 Blackmagic Design has announced that the live production workflow for Grammy nominated American rock band Fall Out Boy's worldwide MANIA tour was upgraded to include its Pocket Cinema Camera 4K, URSA Broadcast and ATEM Camera Control Panel. The tour also used a full AV workflow of additional Blackmagic Design products.
Fall Out Boy has been topping the charts with hit songs like 'Dance, Dance', 'Centuries', and 'Uma Thurman'. The band released its latest album MANIA earlier this year, and just this month wrapped the sixth and final leg of the MANIA tour featuring openers Machine Gun Kelly and other supporting acts.
Production Designer Robb Jibson of Chicago production design firm So Midwest, Inc., and Touring Video Director Patrick Eaton of production and engineering solution provider VER, implemented a full Blackmagic Design setup when the MANIA tour began in 2017 and continued to upgrade the setup throughout 2018 to include a Pocket Cinema Camera 4K, five URSA Broadcast cameras, an ATEM Camera Control Panel, five Blackmagic Camera Fiber Converters and five Blackmagic Studio Fiber Converters.
The Pocket Cinema Camera 4K was used front of house to capture a wide angle shot of the stage, along with a Blackmagic Video Assist 4K monitor/recorder, which Robb used to record each show in its entirety, so he and the band members could review each show afterward. The URSA Broadcasts were set up throughout the upper sections of each venue to capture various views of the stage, and the team used URSA Studio Viewfinders and URSA Viewfinders in conjunction with the cameras. Blackmagic Camera Fiber Converters and Blackmagic Studio Fiber Converters allowed the team to run all necessary connections from the URSA Broadcasts to the engineering racks backstage.
"Blackmagic Design has been able to do amazing things with cameras and image sensors," said Jibson. "The Pocket Cinema Camera 4K works incredibly well in the ever changing lighting in a concert setting. The URSA Broadcast cameras allow touring productions to utilize familiar controls while adapting the brilliance of the Blackmagic Design family of image sensors into a convenient package that reduces the footprint of traditional ENG cameras by 75 percent. This is important for venue sightlines and ticket sales, which ultimately affect the bottom line."
In addition to the URSA Broadcasts, the workflow also featured several more Blackmagic Design components, including 10 Micro Studio Camera 4Ks positioned on the stage and center walkway for POV shots. All of the cameras were fed into the ATEM switching system and ultimately into two Mac Pros on the engineering racks for content and live generative effects, which were then fed into a Teranex AV to convert the 2160p feeds to 1080p HD-SDI signals destined for the LED screen processors. The ATEM Camera Control Panel allowed the team to control all five URSA Broadcast cameras and all ten Micro Studio Camera 4Ks from backstage. Blackmagic Design's ATEM 2 M/E Broadcast Studio 4K, MultiView 16, and Smart Videohub 40x40 and Smart Videohub CleanSwitch 12x12 routers were also used on the tour for live switching, monitoring, and routing.
www.blackmagicdesign.com
Top Related Stories
Click here for the latest broadcast news stories.