Broadcast News
19/05/2015
Blackmagic Design Makes Magic With URSA Mini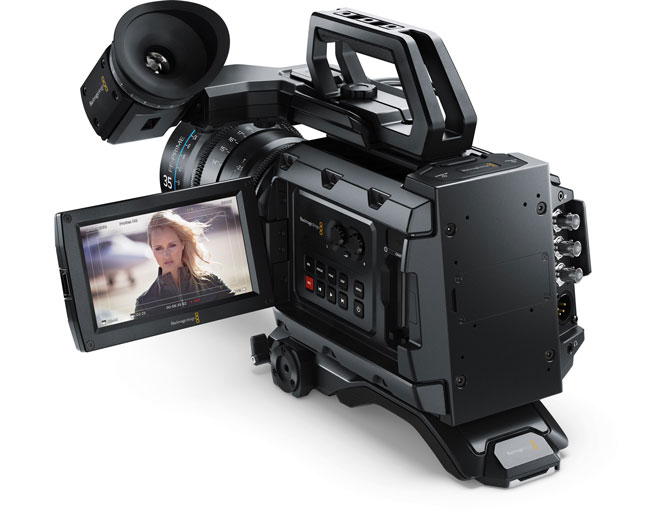 One of the main talking points at NAB 2015 was Blackmagic Design. Specifically, the products it debuted at the show. Patrick Hussey, Senior Communications Manager, EMEA, speaks to BFV about Blackmagic URSA...
Q: It has been described as the world's first high-end digital film camera which will revolutionise workflow on set. Can you tell BFV about the Blackmagic URSA and what sets it apart from other cameras?
A: During NAB we unveiled our newly developed 4.6K sensor, something Blackmagic has had in development for several years now. We've invested heavily in its development and are delighted with the results. Not only are we seeing an increase in resolution, but we also seeing improved dynamic range – this new 4.6K Super 35 sensor can now deliver 15 stops of dynamic range.
If we rewind the clock 12 months ago to when we first announced the URSA, we promised that this camera would be user upgradeable. With this announcement, existing customers can now go out and replace their existing 4K URSA sensor with the new 4.6K sensor. Due to the way in which designed the URSA, there isn't any need to send your camera back to base for the upgrade. We do of course advise that you carry out the upgrade in a clean environment and because you are breaking the thermal pad when removing the turret, a new one is supplied with your upgrade.
In addition to the improved dynamic range, we'll also see different frame rate options available at 4.6K. When in global shutter mode it can record up to 50fps and that doubles to 100fps when you switch to rolling shutter. There is also a window option, offering further frame rate options when shooting in HD mode. What we didn't want to do when offering higher frame rates was to reduce the dynamic range in the camera, and so when you do introduce those higher frame rates there has to be a compromise, and that is why we developed a sensor that could switch between global and rolling shutter guaranteeing you don't lose any detail.
The URSA Mini was unveiled at NAB earlier this month and created quite a talking point of the show; how has the reaction been since its release?
Reaction has been tremendously positive since it was announced. Having seen what customers were doing in terms of rigging up our early cameras, whether it was the Production Camera 4K or the 2.5K Blackmagic Cinema Camera, and taking onboard a lot of feedback around the URSA, in quite a short space of time we've been able to develop a powerful small camera package in the URSA Mini, that still has all the power of the full size URSA, whether it uses the 4K or 4.6K sensor.
It features a five inch screen, which is the same touchscreen we feature on our new Blackmagic Video Assist product, and you've got many of the features present in the URSA. We've added XLR audio inputs on the top of the camera, built-in GPS and Gyroscope, which means we can draw all of that information out on the metadata. The camera now weighs 2.5 kilos excluding the shoulder mounting kit and Blackmagic Electronic Viewfinder, both of which are additional accessories sold separately, and feels very well balanced.
The key differences between this and the larger URSA are unsurprisingly its size and weight. At just 2.5 kilos this really won't feel uncomfortable running around with this on your shoulder, either in a digital film setting, or as a documentary or news gathering style. The other main difference is that the URSA Mini isn't upgradeable and only offers 30fps recording as a global shutter and 60fps when switched to rolling. As with the original URSA it will also feature a window option allowing for increased frame rate options when recording in HD. Pricing for the URSA Mini EF starts from 2,995 USD for the 4K model (EF) and 4,995 USD for the 4.6K EF version.
I have alluded to this already, however I wanted to come back to the Blackmagic URSA Viewfinder, a full HD OLED EVF. It's a beautiful design, and something that we have been working on for nearly eighteen months now. Featuring glass optics, it gives you a full 1080 resolution image and also has a built-in sensor that will turn off the viewfinder when not in use, limiting the power draw. It mounts on the top of the camera and is fitted to a slider, allowing you to move it backwards and forwards, as well as side to side. We feed an HD image into the EVF, including all the overlays, via SDI, and it draws power from a standard 12-pin XLR input. Pricing on the EVF is 1,495 USD.
This article is also available to read at
BFV online
.
(JP)
Top Related Stories
Click here for the latest broadcast news stories.