Broadcast News
01/11/2018
EditShare Announces Availability Of Lightworks 14.5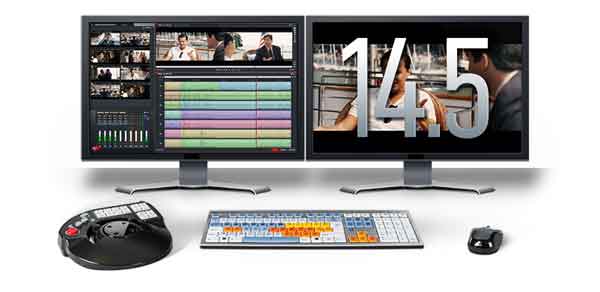 EditShare® has announced the immediate availability of its Lightworks non-linear editor (NLE) version 14.5 (Windows, Mac, and Linux) release offering over 70 new features and 500 improvements.
Topping the list of sought-after creative capabilities for the Emmy award-winning NLE is support for popular smartphone and tablet formats and variable frame rates; a new comprehensive histogram and GPU precision options for accurate colour grading and improved third-party VFX and audio round-tripping support.
Lightworks 14.5 is available as a download in either the Free or Pro version.
"Lightworks 14.5 eliminates the headaches that come when working with the myriad of formats you have to deal with on any given project," stated Matt Sandford, Lightworks Product Manager, EditShare. "You can mix, edit and grade - without the need to transcode - your iPhone X shot content and your RED camera content on the same timeline. This type of flexibility brings the editorial experience to a whole new level."
Sandford concluded: "More than mixing formats, Lightworks 14.5 is a milestone release that touches upon every aspect of the post-production workflow and offers just about every editor an improvement, new feature or new integration that will make them smile. From prosumer codecs right through to our support for feature films codecs with improved native support for Red Cinema files and the latest Blackmagic RAW Q0 codec, Lightworks 14.5 has something for everyone!
"Lightworks has always supported popular Blackmagic Design DeckLink or AJA I/O cards to ensure a clean, 10bit video display but since version 14.5, with the new 32bit float GPU precision options, Lightworks can be used for reliable, accurate colour grading for direct YouTube, Netflix, TV or Cinema Delivery," comments freelance editor/colorist and Lightworks 14.5 beta tester Craig Marshall. "Complementing this capability is that Lightworks 14.5 exports industry-standard XML, EDL or AAF to solutions like Autodesk's Flame and DaVinci Resolve for easy conform then final colour grading or finishing. This is the best of both worlds. You have the speed and flexibility to finish entirely within Lightworks or in conjunction with your favorite third-party application."
Top Related Stories
Click here for the latest broadcast news stories.