Broadcast News
11/10/2018
Omnitek Launch "Ultra Passport" At IBC 2018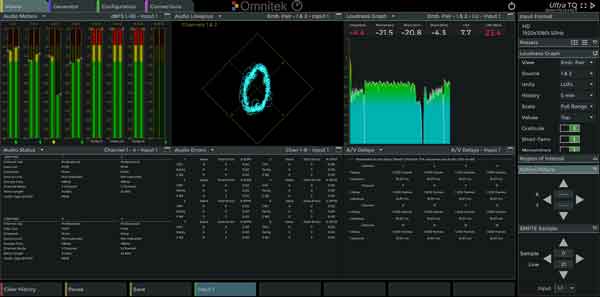 I am not sure if it was the glorious weather in Amsterdam for the IBC show or a change in industry opinion, but there seemed to be an acceptance at the show this year that there is a place for both IP and SDI infrastructures within broadcast with still more manufacturers adopting both SDI and IP interfaces for their products.
After discussing requirements with a large number of people coming to the Omnitek stand, it appears that nearly all new installations are being implemented with IP infrastructures but with updates and improvements to existing installations still favouring SDI.
Over the last few IBCs there was a lot of interest from broadcasters and post house about the possibilities of creating 4K content but with no real plans to do so, whilst at this year's show broadcasters and post houses around the world appear to be gearing-up for 4K production as the reach of OTT content providers extends around the world and localised content is required.
This year's show was a good one for Omnitek, with demand for our T&M products and solutions that support SDR / HDR, WCG HD / 4K workflows and SDI / IP and hybrid installations as well as Dolby decoding.
The evolution of the Ultra family of T&M products continues with the launch of V4.0 software with its support for the new Ultra audio board and SMPTE 2110 via SFP at this year's show. Omnitek also launched the "Ultra Passport" care package at the show to help broadcasters and media organisations on their current and future technological journeys.
The 'Ultra Passport' is a fixed cost package, offering 3 or 5-years worry free operation, with all of the benefits and flexibility that the package offers, including annual calibration, help desk portal, advanced service replacement and discounts on future purchases of software and hardware options as well as new equipment.
This offers customers a flexible upgrade path when purchasing any of the Ultra family of T&M products and allows them to purchase equipment now, knowing that Omnitek's equipment is a future proof investment. This package is ideal for any organisation with workflows requiring high availably installations for production, quality control, compliance and grading.
The Ultra TQ supports the analysis of video over SDI or an IP link as a SMPTE 2110 / SMPTE 2022-6 stream with full dual PTP support. In addition to its comprehensive set of video instruments, the Ultra TQ can now analyse and decode Dolby E, Dolby D and Dolby D+ audio for monitoring and quality checking. This 'all in one' solution is proving very popular with broadcasters who are looking to find a solution for current needs with a 'foot in the door' for future requirements.
The Ultra XR is the instrument of choice in Post for anyone wanting to grade and quality control HD, SDR, 4K and HDR content. It provides all the traditional tools needed to work with DI - high-resolution waveform display, vectorscope, CIE chart etc - and engineered specifically with 4K/UHD in mind. The Ultra XR supports 12-bit 4:4:4/4:2:0 SDI input formats in YCbCr and RGB, along with Wide Colour Gamut RGB - ITU-R BT.2020 and High Dynamic Range (HDR) inputs - ST2084 / PQ and Hybrid Log Gamma. Now with support for SMPTE 2110 / SMPTE 2022-6 HD video with 2110 4K support.
The Ultra 4K Tool Box is still a highly attractive solution for Manufacturers designing and evaluating their own QL 3G-SDI, 6G-SDI and 12G-SDI products. The Ultra 4K Tool Box continues to benefit from functionality developed for the Ultra Family of T&M products.
This article is also available in the October edition of Broadcast Film & Video
here
.
Top Related Stories
Click here for the latest broadcast news stories.