Broadcast News
14/09/2018
New SMPTE 2110 And Dolby Functionality At IBC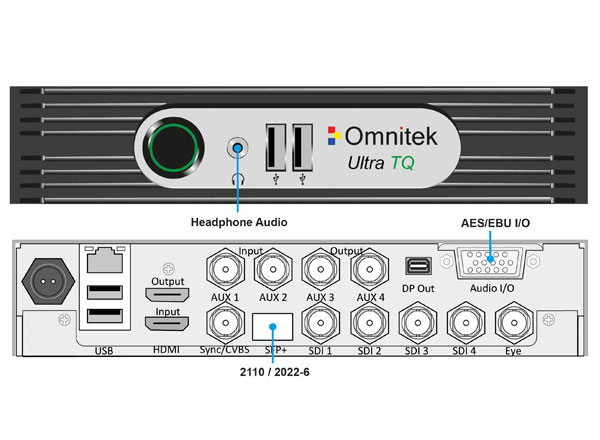 The broadcast and media industries are evolving in all areas to adapt to the challenges of competition from OTT, changing user viewing habits, technological advances in image resolution, dynamic range and colour rendition as well as embracing new video over IP infrastructures. Each organisation is finding its own path to the solution it believes will future-proof themselves, to deliver the type of programs that the viewers wish to see and in the way they expect to see them.
Omnitek is working on the solutions that broadcasters, media organisations and manufacturers need to adapt to the challenges raised by SDR / HDR, WCG HD / 4K workflows and SDI / IP and hybrid installations.
The evolution of the Ultra family of T&M products continues with the launch of V4.0 software with its support for the new Ultra audio board and SMPTE 2110 via SFP at IBC this year. Also, Omnitek will be launching the "Ultra Passport" care package to help broadcasters and media organisations on their current technological journey.
The Ultra TQ supports the analysis of video over SDI or an IP link as a SMPTE 2110 / SMPTE 2022-6 stream with full dual PTP support. In addition to its comprehensive set of video instruments, the Ultra TQ can now analyse and decode Dolby E, Dolby D and Dolby D+ audio for monitoring and quality checking. This 'all in one' solution is proving very popular with broadcasters who are looking to find a solution for current needs with a 'foot in the door' for future requirements.
To allow the decoding of Dolby, AES/EBU input/output as well as analogue audio monitoring functionality, a new mezzanine board has been designed for the Ultra product range. This board provides the AES/EBU audio connectivity required to monitor the de-embedded audio from the SDI/IP stream and decoded Dolby content. This is available as a factory upgrade to existing customers.
The Ultra XR is the instrument of choice in Post for anyone wanting to grade and quality control HD, SDR, 4K and HDR content. It provides all the traditional tools needed to work with DI - high-resolution waveform display, vectorscope, CIE chart etc - and engineered specifically with 4K/UHD in mind. The Ultra XR supports 12-bit 4:4:4/4:2:0 SDI input formats in YCbCr and RGB, along with Wide Colour Gamut RGB - ITU-R BT.2020 and High Dynamic Range (HDR) inputs - ST2084 / PQ and Hybrid Log Gamma. Now with support for SMPTE 2110 / SMPTE 2022-6 HD video with 2110 4K support being demonstrated at IBC.
The Ultra 4K Tool Box is still a highly attractive solution for Manufacturers designing and evaluating their own QL 3G-SDI, 6G-SDI and 12G-SDI products. The Ultra 4K Tool Box continues to benefit from functionality developed for the Ultra Family of T&M products. For IBC it will gain support for SMPTE 2110 / SMPTE 2022-6 HD video with full dual PTP support now, with 2110 4K support being demonstrated at IBC. The SFP cage on the Ultra 4K Tool Box also provides native support of Video over Fibre applications.
Omnitek has always provided a flexible upgrade and support approach to allow its customers to purchase equipment now, knowing that Omnitek's equipment is a future proof investment. Omnitek's new care package to be launched at IBC will offer customers of current and classic Omnitek products a flexible upgrade path when purchasing any of the Ultra family of T&M products.
At IBC, Omnitek will be launching the "Ultra Passport" care package to further support Broadcasters and media organisations in these challenging times. We asked ourselves, "what are the factors that contribute to 'peace of mind' for our customers on their technological journey". Words such as reliability, certainty, competence, professionalism, problem solving, technical support, future-proofed, high availability, value for money, hassle free came to mind. We believe that our customers will see that the "Ultra Passport" care package answers the questions that these words imply.
The "Ultra Passport" package is a fixed cost, single line item at time of equipment purchase that offers you three or five-years worry free operation, with all of the benefits and flexibility that the package offers. The "Ultra Passport" package is also available to existing Ultra and Classic product customers.
The Omnitek team will be available at IBC to discuss its solutions for R&D / Manufacturing, Post and Broadcast. Come and see us at IBC 2018 - Stand 10.A24.
Author: Alan Wheable FISTC, MITOL – Communications Manager at Omnitek
This article is also available in the September edition of Broadcast Film & Video. Here.
Top Related Stories
Click here for the latest broadcast news stories.