Broadcast News
18/09/2018
NEP The Netherlands Scoops SVG Sport Production Award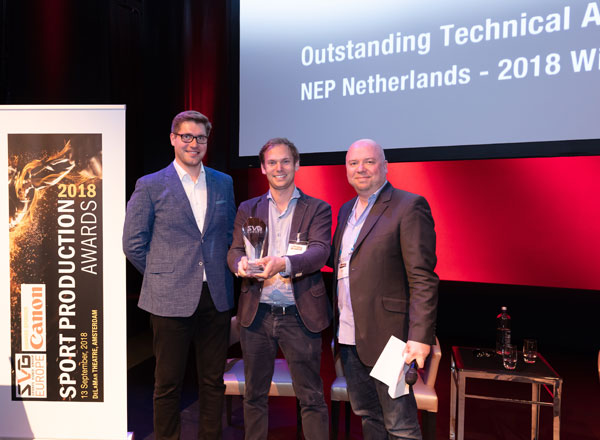 NEP The Netherlands has scooped an SVG Europe Sport Production Award 2018 for its work at the Olympic Winter Games PyeongChang 2018 with its Remote Commentary solution.
The team, along with their partners at Discovery, were celebrated in the Outstanding Technical Achievement, Audio category.
During the Games, NEP provided several services within a glass-to-glass workflow to Discovery during the coverage of the Games across Europe on free-to-air, pay-tv and online. NEP's Remote Commentary, a centralised audio-mixing solution, was used to handle the content localisation through its features to automatically detect and fix lip sync offsets, incorrect formats or wrong audio channel mapping. Once the audio was automatically mixed and synchronised, NEP encoded the video and audio feeds to distribute the content onto the Eurosport Player platform, the direct to consumer streaming service from Discovery's leading sports brand, Eurosport. As a result, sports fans could watch their favourite sport with localised commentary for 13 concurrent event feeds with up to nine local languages per event feed.
The scale and complexity of the project, combined with the volume of content, was a great technical and operational challenge. The number of countries, regions, cultures and languages involved in Discovery's coverage of the Games made the project unique, so the company turned to NEP for an efficient, cost-effective solution. Remote Commentary, a proprietary solution from NEP's Media Solutions team, was developed to enable broadcasters to increase the value of commentary content, reduce event costs and deliver the highest audio standard.
During the event, Discovery brought the Olympic Winter Games to more people, on more screens than ever before, including making available more than 4,000 hours of coverage and 100 events, with 900 hours of live action, more than ever across the continent. With NEP's Remote Commentary solution, Discovery had an efficient way for sports fans across Europe to be able to watch their favourite sports in their own language.
www.nepgroup.com
Top Related Stories
Click here for the latest broadcast news stories.