Broadcast News
22/11/2018
EE And BT Sport Demonstrate First Live 5G Broadcast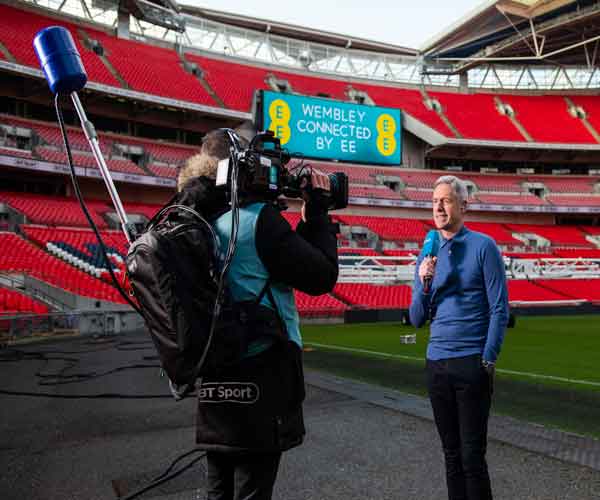 BT Group's EE and BT Sport have demonstrated the first live broadcast with remote production over 5G – an approach BT Sport will use to increase the coverage available to viewers with more matches and faster highlights.

The final of the FA-recognised EE Wembley Cup 2018 will be the world's first live sporting event to be broadcast over 5G using remote production. The event, featuring YouTube's biggest footballers alongside international football legends, will be broadcast over EE's 5G network live from Wembley Stadium on the channel of YouTube star Spencer Owen (Hashtag United) at 2pm on Sunday 25th November 2018.

Building to the hotly anticipated live final, EE and BT Sport have partnered to showcase the capability by delivering a live, two-way broadcast over 5G from Wembley Stadium to London's ExCeL Exhibition Centre. The live broadcast trial was hosted by BT Sport presenters Matt Smith and Abi Stephens.

The broadcast was carried over 5G in Wembley Stadium, and then produced remotely by the BT Sport production crew at BT Sport's base in Stratford, East London.

Jamie Hindhaugh, chief operating officer, BT Sport, said: "BT Sport has a rich history of the latest broadcast innovations, whether it's ultra-high-definition with Dolby Atmos or 360Virtual Reality. 5G will next season enable BT Sport to deploy the most advanced remote production of any broadcaster. It will allow us to cover more live matches from more leagues and competitions, and to bring fans highlights action closer to the final whistle than has ever been done before in the UK."

The 5G broadcast from Wembley Stadium, using EE's 5G test network in the stadium, showcases the capabilities of 5G. The test network uses EE's 3.4GHz spectrum from its first 5G antenna in the stadium, connected to a 10Gbps backhaul link.

Marc Allera, CEO of BT's Consumer business, said: "This trial is another showcase of what our 5G network can do, and is a big part of our continued investment in using 5G across the whole of BT Group. The EE Wembley Cup Final 2018 will be the world's first live sporting event to be broadcast over 5G, and that's part of our ongoing commitment to innovation for our customers."

Top Related Stories
Click here for the latest broadcast news stories.