Broadcast News
10/08/2018
Rotolight To Bring Unparalleled Flexibility To IBC 2018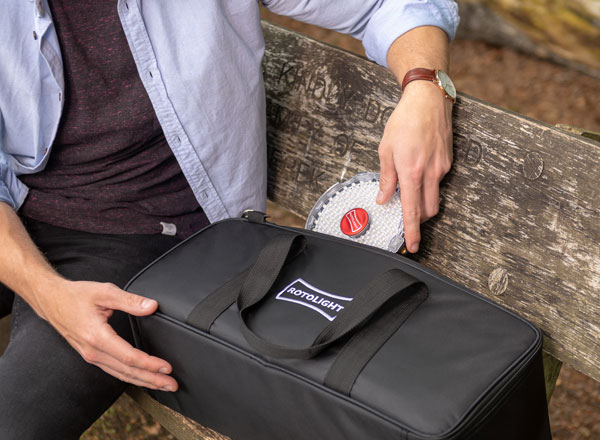 The key date in the calendar of any broadcaster, DOP or cinematographer is fast approaching; each year IBC exhibits the latest industry innovations and enables creatives to keep up to date with new technologies that will enhance or simplify their workflow.
For Rotolight, who are this year celebrating their tenth year, IBC is an opportunity to showcase the overwhelming potential of LED lighting in the film and broadcast industries.
The brand new Rotolight NEO 2 Explorer Kit will be making its European debut at this year's IBC; a portable three-light kit of award-winning NEO 2s that offers numerous unique benefits built into the light, perfectly suited to shooting on location.
Weighing less than 7kg, the Explorer Kit is one of the most lightweight kits ever designed, offering increased flexibility on run and gun productions. As a powerful, yet soft, flicker-free light, the unique circular shape and wide beam angle of the bi-colour LEDs replicates natural light sources and, with electronically adjustable brightness and colour temperature, can be tailored to match the ambient lighting.
The NEO 2 also provides excellent colour accuracy (CRI 96, TLCI 91) thanks to Rotolight's AccuColour™ technology, reducing the time and money spent on post-production, enabling videographers to get the right shot with the right colour first time.
In addition, NEO 2's industry leading energy efficiency results in unrivalled battery performance, minimising disruption to shoots.
Visual FX veteran, Stefan Lange ('Batman', 'Skyfall', 'Tomb Raider'), recently used the Explorer Kit in the production of BAFTA nominated 'Film Stars Don't Die in Liverpool', stating: "Lightweight, portable and amazing battery life, with everything you need in just one case. Even on a large film set lit with big studio fixtures, I always have my own set of three NEO 2s standing by and ready to bring in for that extra kick or fill, or on a small set up, they provide enough punch on their own."
More than just an LED, the NEO 2 also acts as a High Speed Sync flash (1/8000th) for stills photography, and offers an industry-first suite of customisable CineSFX™ for cinematographers. Designed in conjunction with Lange, the built-in SFX simulates fire, paparazzi, TV or lightning for added drama. This eliminates the need for complex, time-consuming flicker-box workflows, allowing productions to be more agile.
For broadcasters, the NEO 2 offers a Designer Fade™ function which creates a custom fade transition in-camera, ideal for live ENG features in even the most remote locations.
"In driving scenes where DOP Urszula Pontikos had moving lamps," continued Mr Lange, "we had NEOs as some of the static lights using the flicker SFX to help create that scene-changing effect. We also found the Designer Fade™ feature particularly useful to fade up from zero output to 100% and back again to zero. It created a seamless effect and made the light very nice to work with."
Provided in a bespoke soft case made from high quality, water resistant material with a padded strap for extra comfort, the kit also includes light stands, colour FX filters and power supplies providing crews with a complete lighting kit on the go.
Since its launch, the Rotolight NEO 2 has been widely recognised for its versatility and innovation, garnering awards such as Digital Camera's Best on Test and Gold Award, and Pro Moviemaker's Highly Recommended award.
The Explorer Kit makes this innovative technology accessible in a compact and versatile lighting solution to simplify and enhance the workflow of creative imagemakers.
Visit Rotolight at stand 12.G48 to explore the award-winning range of lighting solutions and find out how they can work for you.
www.rotolight.com
This article is also available in the August edition of Broadcast Film & Video. Available here.
Top Related Stories
Click here for the latest broadcast news stories.