Broadcast News
12/03/2015
Rotolight NEO Lauded As 'Next Industry Standard'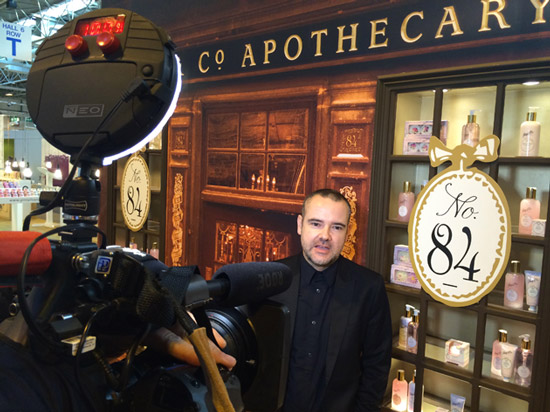 Rotolight's latest on-camera LED Lighting system has recently been tested out on the field. We find out why the NEO will be an 'industry standard' lighting unit after its successful premiere at BVE 2015.
Highly experienced lighting cameraman and British Guild of Television Cameramen council member Simon Edwards was recently granted the privilege of being the first test pilot of the Rotolight Neo. Edwards, whose credits include many projects for the BBC and feature films such as Dark Shadows, also teaches lighting at one of Britain's leading filmmaking Colleges and is well suited to the task of putting the feature-packed unit through its paces.
"I think that Rotolight has moved the world of portable LED lighting on again with the Neo. It is a feature rich lamp with excellent output in terms of both colour and power. The Neo differs from other systems not only in the trademark Rotolight form factor but also its flexibility, build quality and quality & consistency of light. On the most basic level you have a lamp with tuneable colour and power, but start digging into the menu and you soon find the ability to match the lamp to your cameras settings and also perform fades up and down."
The latest product from the multi-award winning British manufacturer has been designed with the camera operator in mind, with a feature set including never before seen 'True Aperture Dimming' and 'Programmable fade mode' including Bi-Colour LED lighting technology (from 3150K to 6300K) that delivers a powerful 1077 lux at 3 feet - twice that of competing LED on camera lights! NEO's 120 'best in class' LEDs feature an overall CRI of 95 with an almost perfect skintone reproduction; R15 = 99.
"The tuneability was crucial to both projects I tried NEO on. Being able to accurately match the additional lighting (ANOVA 2, HMI, fluorescent and tungsten) that we have been using has been really useful. I think that we are now in at a stage with LED lighting where tuneable colour temperature is becoming an increasingly usable option rather than a gimmick and Rotolight with the Anova and now NEO are at the forefront of that technology."
Featuring an intuitive dual rotary encoder control system for rapid brightness and colour temperature adjustment in the field, and Rotolight's 'Dynamic Drift Compensation' for smooth dimming from 0%-100% with no colour shift. Neo can be powered by six AA batteries for up to five hours (or three hours at 100% power), AC adapter or D-TAP cable, drawing only 9W at full power.
"Not many years ago we were used to lugging battery belts around for our battery lights and the lights themselves were pretty brutal things to use. Thankfully we no longer need to do that! I used the NEO primarily as a battery powered light, either on AA batteries or using a D-Tap adaptor from the output on the camera. Obviously it draws very little power and certainly made no difference to the running time of my camera. The AAs certainly seemed like an economical option too and of course being a universally available battery there would be no problem sourcing extra batteries in the field. I didn't time the life of the AAs, I just let it run and run. It went on for hours."
The Rotolight Neo was developed at Pinewood Studios UK, after years of extensive feedback from leading cinematographers and photographers around the world as to what they would most like to see in the next generation on camera light for professional television, film and photographic use.  From that feedback the Rotolight 'Neo' was born, and it delivers never before seen technology in a truly unique versatile, highly portable package, that is proudly designed and manufactured in the UK.
"I think NEO offers so much to so many people; stills and moving pictures, experienced camera people and those at the start of their careers, DSLR or full size cameras," Simon Edwards said. "NEO truly is a light for everyone and with Rotolight's pro-active approach to customer feedback and development I can see this being the beginning of the next generation of LED lighting coming from their Pinewood manufacturing base. I can't recommend NEO highly enough – I see it becoming an industry standard unit."
The article is also available to read in
BFV online
.
(IT/CD)
Top Related Stories
Click here for the latest broadcast news stories.