Broadcast News
09/08/2018
A Guide To Filming In London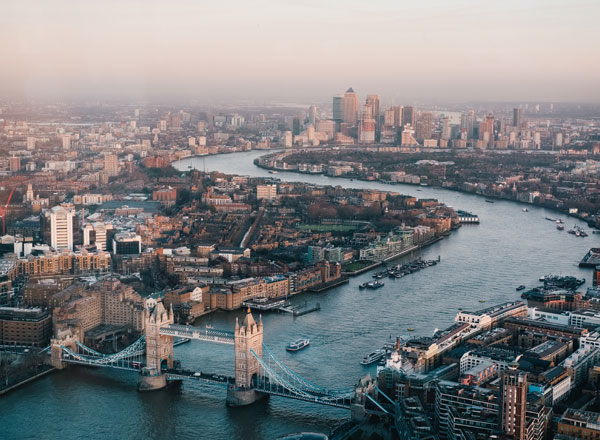 Diverse, distinctive and immediately iconic, London has a unique and memorable character that has made it the setting for
countless films
and TV shows. Anthony Minghella once said that 'if you are tired of shooting in London, you are tired of shooting life'. And he's not wrong. With sweeping cityscapes, picturesque parks and bustling riverside vistas, London really does have it all.
Whether you're creating a brand film or documentary, it's crucial that you understand exactly what you're getting yourself into ahead of your production. London is a busy and hectic place and shooting there will require planning and a good deal of know how.
Whilst we'd always recommend engaging the services of a local and experienced location manager, here are a few tips to keep in mind when you're planning your London shoot.
Location Location Location
First things first - where do you want to shoot in London? It's not a small place and with an abundance of
different London locations to choose from
, each with their own distinct characteristics (from gritty urban to idyllic Royal parks), finding the perfect setting to suit the narrative and tone of your video is one of the most important decisions you'll make.
Whether an iconic landmark, a sweeping cityscape vista, or somewhere secluded away from the hustle and bustle, make sure you do your research and properly scout out the area first. You may love the idea of all those iconic central London landmarks like St Paul's or the Houses of Parliament but if it's impractical then that you might have to compromise when it comes to making your final decision. Remember that London's most iconic locations are also some of its busiest and difficult to film in.
Working with a dedicated location manager will be beneficial if you are unfamiliar with the city as they will already have built meaningful relationships with relevant local authorities and be able to negotiate on your behalf with those responsible for issuing filming permits.
In addition to negotiating private property fees and obtaining the correct permits and licenses, planning for unforeseen issues by sourcing alternative locations in advance will ensure your production runs seamlessly regardless as to the challenges the city might decide to present you with on filming day.
Costing Your Production
Although filming in the city's streets and public spaces typically won't cost you anything, there are instances in which you will be required to pay a fee. From admin charges to traffic management and waste disposal,
contacting the relevant Borough Film Service
to discuss your production will simplify the process of liaising with relevant council departments and ensure you are in receipt of every piece of relevant information and advice to streamline your production.
Privately owned locations will determine their own charges and as this will depend on your unique requirements, it is worth reaching out to discuss your project well in advance of your proposed filming date.
Obtaining Permissions and Insurance
If you are working with a small crew, you might find yourself tempted to try and get away without obtaining a filming permit. This is risky and if you are caught, you will likely find yourself hit with a pretty hefty fine. Perhaps more significantly and costly, your schedule will be severely disrupted as you go back to the drawing board to find another location. If you know you don't have any wiggle room in your budget or your schedule, ploughing ahead without the necessary permissions is not advisable.
It is also important to note that international crews are subject to different rules, notably around things like media insurance.
Film London
has lots of information and contact details on this so are a good first port of call.
Obtaining a public liability insurance certificate in advance of your filming date is non-negotiable. If you're thinking of taking a shortcut here, know that the risk really is not worth it.
As every borough has its own set of rules and limitations, you can find an excellent resource to help you navigate the sometimes-complex world of city filming licenses and permissions. Again,
the Film London website
has a wealth of information, useful links and contacts to help you start planning.
Staying on The Right Side of the Law
Your first step should always be to ensure that your plans are legal. In addition to obtaining the correct level of media insurance, you must also fully comply with health and safety regulations throughout the duration of your production. For security reasons, filming is prohibited in front of certain government locations and as all embassy buildings have a substantial police presence, you will likely run into difficulties here.
As privacy laws are crucial to consider, you should endeavour to obtain the permission of people who can be clearly seen in the background, as well as signed release forms from members of the public in the foreground of your shots. This will be extremely difficult to do after the fact, so make sure this information is obtained at the time. If obtaining written consent from everyone is simply impractical, clear signage should be erected to communicate that filming is taking place.
A Final Word About London's Rush Hour
For those not familiar with just how busy London can get, it's worth ending with a note about the dreaded London rush hour, which tends to peak between 07:30-9:30 and 17:00-19:00.
As the UK's most populous city, rush hour in London can be a real issue, especially if you're trying to film in busy areas or move kit from one location to another using London's public transport system (forget Taxis in rush hour, you won't get very far very quickly at all). If your shoot will stretch across several locations, avoiding travelling across the city with lots of equipment during rush hour. This will ensure you can maximise your filming time without finding yourself stuck in heavy traffic.
As with every aspect of filming in London, planning, research and local insight are all essential to making sure your shoot goes off without a hitch.
Author: Evelyn Timson, Managing Director of Bristol and London based video production company, Aspect Film & Video
www.aspectfilmandvideo.co.uk
Top Related Stories
Click here for the latest broadcast news stories.