Broadcast News
09/08/2017
Filming The Bees Nees Music Series 'Seirm'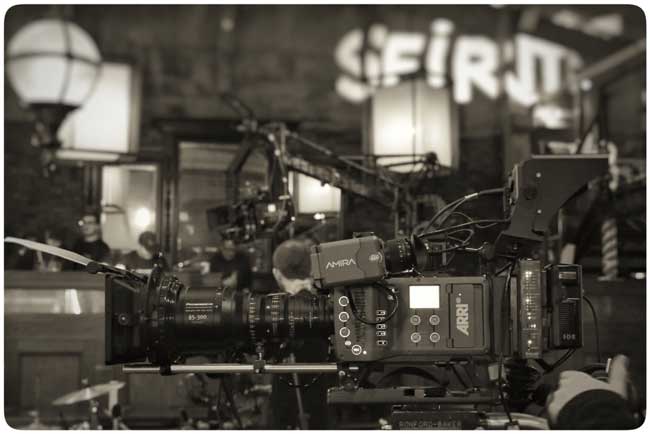 In January each year, Glasgow plays host to the Celtic music festival Celtic Connections. The festival is held over many venues and features musicians from every corner of the planet.
The Glasgow-based production company Bees Nees produce a series of music programmes for BBC Alba, TG4, and S4C. Cherry picking some of the best artists from the festival, and filming before a live audience in interesting, intimate venues, it has been a joy to work on the last three series.
From the very beginning, company director Alasdair MacCuish wanted these programmes to be shot in a filmic way with large sensor cameras rather than conventional broadcast equipment. He needed to be able to direct as a multi camera show, cutting live and recording the mixer output to create a largely finished product with the ability to tidy up in the edit using the cards from each camera.
Glasgow-based camera and crew hire company Progressive provided cameras, vision mixing and recording facilities. Rich and Neil from Progressive engineered the shoot using Copperhead back ends on the cameras to provide comms and vision control. For the first series they supplied Sony F55 and Canon C300 cameras. Lenses were a combination of Canon zooms, a Zeiss 70 to 200 and an ARRI Alura 18 to 80.
This was an interesting departure for myself as a camera operator used to studio and OB work using conventional cameras and lenses. The first part of the learning curve was to get used to the shorter zoom range of the film type zooms. Compared to conventional television box lenses, you run out of zoom pretty quickly. But then these are different animals. Not designed with multi camera on-shot zooming in mind, they are really single camera drama lenses. When we needed a close up and the zoom couldn't get us far enough in, we used the 2K centre crop on the F55s which doubled the focal length of the lens, and this worked very well. Since we were able to stop recording to change camera positions between the two performance stages we had the luxury of being able to engage centre crop as and when required.
On the most recent series we went with ARRI cameras. It was good to meet Andy Hayford and Mark Dollery from ARRI who were interested to see how we were using the ARRI's in multi camera set up. A selection including Alexas, Amiras, and a Mini were all used. This time, we used a selection of Fujinon Cabrio lenses including 19 to 90s and 85 to 300s, as well as an Angenieux Optimo 15 to 40 on the jib. One Amira was hand held; the other on a tripod with rolling base. An Alexa was on a tracked dolly; another on tripod and rolling base. The Mini was mounted on to a slider and the other Amira was mounted on to the GF9 jib.
My first experience of using an ARRI in earnest and a very pleasant experience too. The menus are pretty intuitive and these cameras are so well designed and put together. As well as the Copperhead system, Progressive tried the British made DTS fibre control system being developed in conjunction with ARRI.
As to the actual filming, each act was sound checked from morning on and that gave cameras and director a chance to find shots and get a feel for each set. We didn't use shot cards. There was a rough guide given camera positions but it was down to each camera operator to find the shots and time the moves and show to the director. A very creative way to work and definitely my favourite. You need good, self confident and trusting directors to work in this way and fortunately we had them!
The recordings took place in the evening with a live audience and because we were in a real venue where food and refreshments were available, a club or café atmosphere was created and it made for better television. To attempt this in a studio would have been easier technically but would have lost much of the warmth of the programmes. The artists could connect and interact with the audience and we as technical crew just had to capture the magic as it unfolded.
We have yet to see the new series in Scotland, transmission is due in here September, Alasdair tells me that it looks great. I am crossing my fingers that it will be commissioned once more and that we get to work on Series Four!
www.camerascotland.com
www.progressivebroadcast.com
www.beesnees.tv
Top Related Stories
Click here for the latest broadcast news stories.