Broadcast News
29/06/2018
RTVS Deploys Stryme Solutions For OB-Van Productions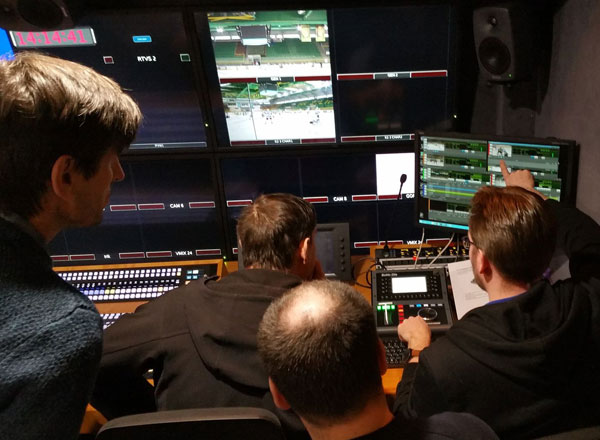 Radio Television Slovakia (RTVS) has deployed STRYME's ultra-slim 2U 12 HD channels GENESIX VideoServer V8 and new mobile storage solution GENESIX 2GO to speed up and simplify its OB-Van productions.
Eight input and four output channels add flexibility to Multi-Cam Ingest and the user-friendly AutoNaming function makes post-production work easier.
RTVS's live HD productions require maximum flexibility when it comes to on-location multi-camera setups and OB-Van systems.
STRYME's eighth generation ultra- slim 2U GENESIX VideoServer with 12 HD channels (8 ingest, 4 output) is ideal for the confined spaces in OB-Vans and ideal for managing workflows with simultaneous Multi-Cam Ingest. Synchronised recordings from several camera settings are copied in parallel to an external mobile storage, using the time-saving Transfer While Capture function. Edit While Capture keeps up the suspense of live moments, delivering the right clips in an instant. STRYME's AutoNaming function automatically names and categorises clips and camera settings in logically structured directories and sub-directories. Cutters with individual user profiles can easily retrieve and reuse the clips they need for editing, re-sequencing, post-production highlight cuts, and more.
GENESIX 2GO is the latest addition to STRYME's innovative range of solutions. Weighing less than 3kg, GENESIX 2GO is a powerful portable high-tech storage/backup solution – perfect for mobile productions. Protected by a hard case, it is sturdy, easy to use and guarantees fast data transportation right after recording. Its high bandwidth enables rapid video content transfers in real time for up to 16 channels (XDCAM HD 422).
GENESIX 2GO and the GENESIX VideoServer have full ingest functionality, including the Transfer Manager & MAM. All data (clips, video footage, etc.) can be transferred and stored simultaneously on the ultra-slim 2U GENESIX VideoServer and on up to two portable GENESIX 2GO storage devices, each with a capacity of up to 6TB. A cable connects each backup unit with the video server. After recording, the units are simply unplugged, and the data stored can immediately be passed on to post production.
STRYME CEO Goce Zdravkovski said: "We wanted to come up with a truly mobile solution. GENESIX 2GO is a small, yet powerful lightweight with a huge storage capacity. Coupled with our ultra-slim 2U 12 HD Channels GENESIX VideoServer and Multi-Cam Ingest it is just perfect OB-Van productions, outdoor or freelance work. What's more, we made sure that like every other solution made by STRYME, it goes easy on the budget.
"Once again, we were very happy to work in tandem with ELVIA-PRO. Thanks to this mutually beneficial collaboration Slovakia's public broadcaster now operates a sophisticated, all-in-one failsafe solution that ensures uninterrupted live broadcasting when their studios are on the move."
stryme.com
Top Related Stories
Click here for the latest broadcast news stories.