Broadcast News
28/11/2017
SonoVTS Helps Brings Zambian Parliament Live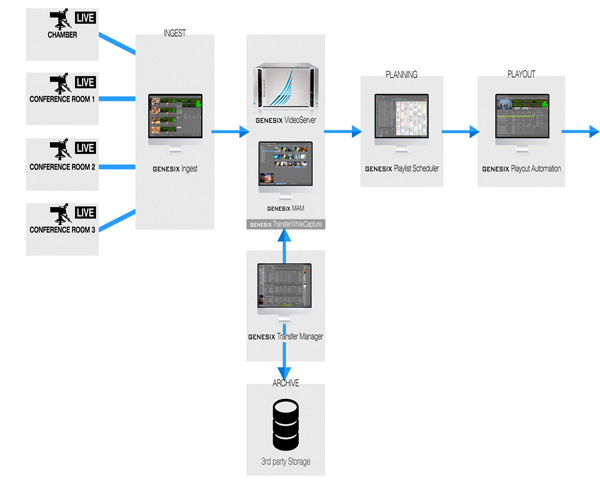 sonoVTS has announced that along with STRYME, a long-term supplier of the Austrian Broadcast Corporation (ORF) a broadcast solutions expert, devised a user-friendly solution for Parliament Television to enable live debate broadcasts from the National Assembly of Zambia.
With financial support from Kreditanstalt für Wiederaufbau (KFW) in Germany and consultation provided by MCI Berlin, the Parliament Television project setup includes cameras installed on the walls of the Parliament Chamber and in three conference rooms. Live debates from these four locations are now recorded simultaneously using a STRYME 4-in Multi-Cam Ingest solution. Part of the Press Gallery was turned into a TV studio that was equipped with a GENESIX VideoServer, complete with Master Control and Playout Automation.
Michael Jaehnel, Head of Project Sales at sonoVTS, said: "We partnered with STRYME because their durable and reliable solutions are high-tech, yet reasonably priced. The GENESIX VideoServer is a real asset for the Zambian government. Parliament TV now benefits from top quality made in Austria and a failsafe, versatile, and user-friendly solution."
Four ultra-fast ingest channels capture and record all live clips locally on the GENESIX VideoServer. The GENESIX Transfer Manager simultaneously transports and records these clips and metadata – using Transfer While Capture – to a third-party archive (Proxy, from VITEC) where they are stored for one month in HD quality. After expiry of the storage period, clips and metadata are moved to a tape library.
Using the GENESIX Playlist Scheduler, planning, setting up, arranging, editing, and scheduling a playlist or enhancing it with graphics material from the clip files stored on the GENESIX VideoServer is easy. The Playout Automation module takes care of everything else: it automatically broadcasts parliamentary debates, events, and celebrations as scheduled, and, if needed, on a 24/7 basis.
www.sonovts.com
Top Related Stories
Click here for the latest broadcast news stories.