Broadcast News
14/06/2018
DMS Unveils Major HAWK ONLINE Update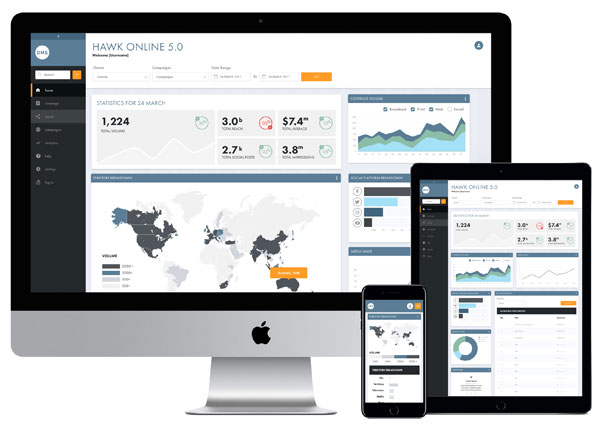 DMS has unveiled HAWK ONLINE ® 5.0, a major update to its international media intelligence platform.
HAWK ONLINE ® 5.0 provides the entertainment industry with extensive monitoring, reporting and analysis across press, broadcast, online and social media. Used by major film studios, entertainment brands and music publicists, HAWK ONLINE ® brings real-time updates across over 20 territories.
From smoother user functionality and experience, to advanced reporting and analytics, HAWK ONLINE ® 5.0 now gives a wider campaign overview for easily digestible results. Its update also allows users to pick snapshot campaign analytics of their choice, including immediate global overview, media value, reach, social coverage and territory breakdown.
Robin McDonald, Director of Media Intelligence at DMS, added: "We've become one of the most used entertainment publicity monitoring platforms by listening to our clients and understanding their needs. We're always striving to improve, and this new release shows that by making it a more valuable tool without any extra cost for its current users."
The update replaces the existing platform and will be available to all HAWK ONLINE ® users.
As well as media intelligence, DMS' 115-strong team provide a full-service from multi-platform content production and management to localisation and distribution. Its clients include major feature film studios, leading film distributors, broadcasters, sports associations and brands.
dmsukltd.com
Top Related Stories
Click here for the latest broadcast news stories.