Broadcast News
18/04/2018
Qligent Wins NAB 'Best Of Show' Award For Software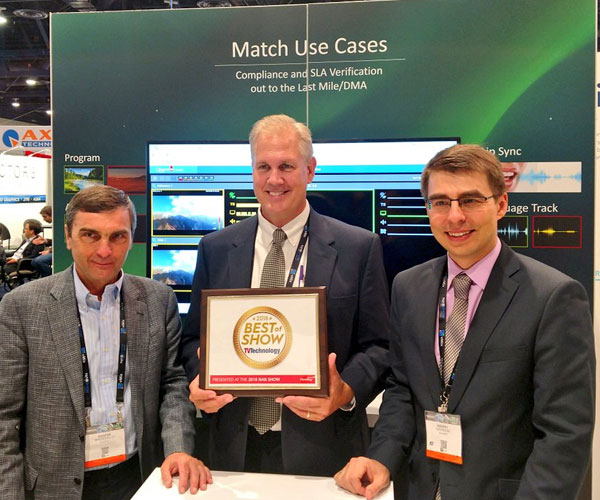 Qligent has won the 'Best of Show' award at NAB for its Match programmatic error detection software.
The award was the company's first NewBay Best of Show award, and was presented by NewBay's digital television authority TV Technology.
Match is the latest software to Qligent's flagship Vision platform, and delivers real-time detection of programmatic and playout errors across multiple content delivery platforms. Vision Match can mine, compare, and analyze a tremendous amount of data and relay just the most meaningful information to those responsible for the content's brand reputation.
The automated solution finds programmatic discrepancies like these by decoding from any signal source, such as RF, IP, Transport, baseband (HDSDI), back to baseband video and audio, and then comparing that to ancillary reference data that was captured of that program in its native state prior to distribution.
When combined with other Vision modules, additional analysis can be conducted such as whether proper closed captioning was displayed, audio loudness compliance, whether intended watermarks were present, verification of proper DPI trigger insertion, and percentage-based quality degradation from the original material.  
"Without Match, as long as the video is playing out smoothly, a third-party network operator would have no way of knowing that they're actually airing the wrong show, or other content-related problems," said Ted Korte, Qligent COO. "Since nothing is technically wrong with the signal that would trigger alarms, the problem could go on for quite some time, often until a viewer calls to complain. The elegant and automated workflow of Match makes addressing these multi-platform delivery assurance problems simple and economically feasible."
When Match detects a programmatic error or mismatch, it automatically alerts on-duty operators and/or notifies the administrator of the issue via email or SMS message. It also generates a video recording of the reference and monitored streams for side-by-side playback so broadcasters can easily verify exactly what went wrong and where. According to Korte, this in-depth analysis can only be effectively managed by an automated, purpose-built, cloud-based solution like Match on the Vision platform.  
Match has been deployed at multiple customer locations and is available as a managed service, a cloud-based solution or on-premise software. As a key option of Vision that can be turned on at any time, Match gives broadcasters unprecedented visibility of their entire broadcast supply chain, including the terrestrial, cable, satellite, IPTV, mobile, and OTT that deliver their branded shows to a potentially global audience.  
NewBay's Best of Show Awards are evaluated by a panel of engineers and industry experts, and are selected based on innovation, feature set, cost efficiency and performance in serving the industry.  
"The NewBay Best of Show Awards at NAB are now in their fifth year," said Paul McLane, NewBay managing director, content.""The program seeks to shine a spotlight on relevant innovations in technology as seen around the million-square-foot exhibit floor of the industry's top trade show. The list of 2018 winners and nominees gives real insight into where and how rapidly our media tech businesses are evolving."
www.qligent.com
Top Related Stories
Click here for the latest broadcast news stories.