Broadcast News
21/11/2013
Sachtler Selected For 'A Perfect Match'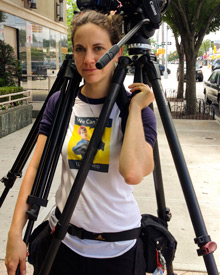 Cinematographer Danna Kinsky had 13 days to work on the feature-length story of Ally, a high-profile magazine editor who begins to re-evaluate her life and her world after she proposed an article badmouthing bus segregation in Orthodox Jewish communities.
Kinsky chose camera support from Sachtler, LED lighting from Litepanels and equipment carriers from Petrol Bags.
"'A Perfect Match' takes Ally and her younger self through a journey facing dark times and traumatic memories," Kinsky explains.
"She rediscovers her roots, connects with her deeper self, and finally comes home."
A Perfect Match features an all-women production crew and an extremely conservative budget.
"Our production package was small and we knew we had to travel as lightly as we could between the many locations, so we chose our equipment carefully," Kinsky says.
"We shot with Canon and GoPro cameras, with Sachtler support and daylight Litepanels.
"Because we had the Sachtler Ace L TT 75/2 CF, I knew I didn't have to rent baby legs, a high hat or a low hat. It served the purpose and filled the role of all those things, making it so I didn't need anything else. The Ace L had more versatility than any other tripod I've ever rented or owned for a lightweight camera system. It weighs just enough to create the sturdiness needed, is easy to travel with, easy to carry, and quick to adjust. We had one shot in a park of Ally running towards the camera in a pivotal, emotional scene. The low mode for this long shot was perfect."
Kinsky continued: "And, when we got to our character's bedroom, we had very tight quarters. The ACE L-TT 75/2 CF was super helpful in low mode on top of the bed to match the heights of the other cameras in the room. I was able to use it in high mode as well, to achieve an overhead shot of the character in bed."
The variety of lights available from Litepanels made getting in, out and around locations faster.
"I love the Sola ENG Flight Kit because they are lightweight enough to hang on scissor clips and they are strong enough to key my main characters," she says.
Kinsky shot a lot of B-roll for this project. "I was working on my own one week before production started, getting different types of shots all over Manhattan," she recalls.
"My goal was to portray the way the main character really feels inside her corporate office. I flew the Sachtler artemis Handheld (
http://shop.artemis-hd.com/en/artemis-Handheld/
) camera stabiliser in midtown and downtown, going through the streets with all the high-rise buildings. The results were fantastic, and helped portray the inner conscience of the character."
A Perfect Match, featuring an all female cast and shot with an all female production crew, is now finished. To preserve the modesty of the Orthodox community portrayed, the movie is scheduled to be released this month in small theaters and venues throughout the world.
www.sachtler.com
(IT/JP)
Top Related Stories
Click here for the latest broadcast news stories.