Broadcast News
20/04/2018
Robycam Cable Camera System Used For Football Match Broadcast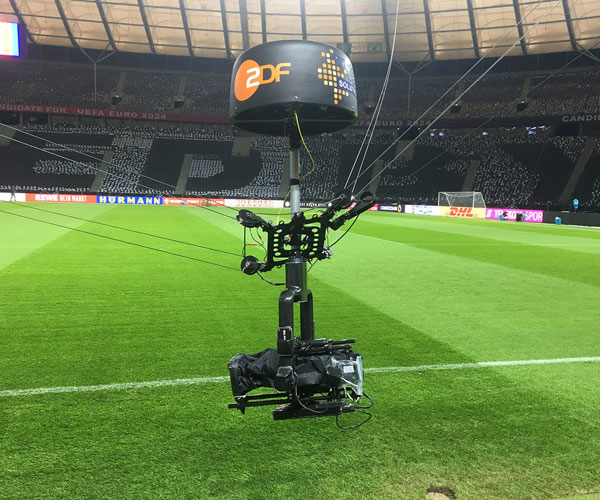 The Robycam cable camera system has been used by German public broadcaster ZDF to produce an international football match between Germany and Brazil.
ZDF took advantage of the system and augmented reality (AR) effects to air the friendly on March 27 at the Berlin Olympic Stadium.
Together with the AR elements, implemented by netventure, new graphic elements could be inserted using the camera's movement in the stadium. The Robycam signals, including the actual location data in the stadium, and the virtual graphics of netventure were mapped in the computer and then sent. Using these new innovative tools, ZDF was able to offer its viewers additional content and information, even while moving the cable camera system in the stadium.
ZDF previously used the Robycam system during the production of 'Mainz celebrates' on the occasion of the Day of German Unity 2017, and in early 2018 during the Biathlon World Cup in Ruhpolding.
Robycam is a cable camera system that enables gyro stabilized 3D camera movements. Together with a powerful controller, the system allows movements in all three axes: Pan, Tilt, and Roll. All three axes are stabilized. There is also an auto-horizon feature that makes the image absolutely stable in wind or swings. Unlike other systems on the market, Robycam has a fifth winch that carries the fibre-optic cable in master-slave mode. As a result, using the Polyspast mode the system is more variable in height.
The Robycam system uses four automatic winches, controlled in real time, and a sophisticated motion control system that allows millimetre-accurate and fast camera shots with up to 8 ms in all axes. The largest system has an operating range of up to 250 m x 250 m and more. Robycam is fully redundant (UPS units on each computer) and of course, has all necessary certifications of DGUV17 / 18 (formerly BGV-C1) to be used above people.
The next production the system will broadcast live is the Champions League semi-final Bayern Munich vs Real Madrid in Munich, April 25. An additional and special use-case is planned for the event SportsInnovation 2018 (8 - 9 May) in Düsseldorf. During the event and in front of numerous media and club representatives the Robycam system will perform the camera flights of the test matches in the Düsseldorf ESPRIT Arena. Two days earlier (May 6) and in the same stadium, Robycam will produce the flying cable camera pictures during the second league football-match Fortuna Dusseldorf vs Holstein Kiel.
www.broadcast-products.de
Top Related Stories
Click here for the latest broadcast news stories.