Broadcast News
13/04/2018
Rotolight Wins 'Best Of Show' Award At NAB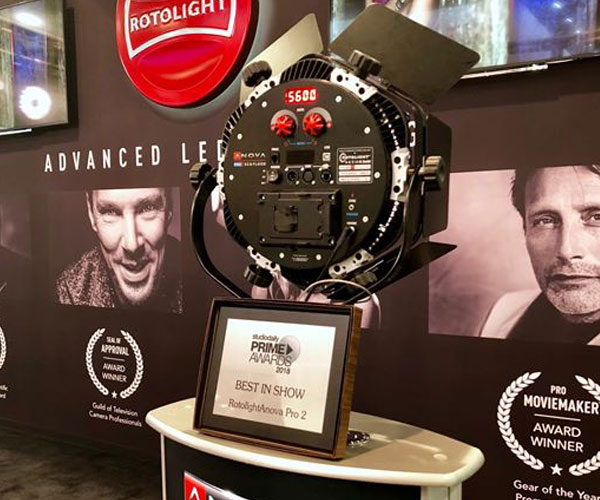 Rotolight's Anova PRO 2 studio and location LED has won the 'Best of Show' award in the StudioDaily Prime awards at the 2018 NAB Show.
The Anova PRO 2 was applauded for its innovation, value and reliability at the annual awards ceremony.
Each year it recognises the most outstanding production and post-production technology introduced over the last year.
The Anova PRO 2 made its North American debut at the NAB Show on Monday April 09. The LED is a pioneering continuous light and High Speed Sync (HSS) flash that redefines the standard for professional studio and location lighting.
The Anova PRO 2 has gained industry recognition for several of its features, including CineSFX™ - a built-in, customisable set of special effects that enables users to simulate lighting conditions such as lightning, emergency lights, television flicker and firelight.
The Anova PRO 2 has already made its mark in the industry and is the light of choice for Celebro, London's first fully 4K television studio regularly used by global broadcasters such as the BBC, MTV, and the Discovery Channel.
"The Rotolight Anova PRO 2 is the perfect light for working in the live television environment. We are able to light people accurately, very quickly, saving us time, mistakes on air and a lot of money," said Wesley Dodd, CEO of Celebro Media.
This latest award follows on from the Anova PRO 2 being awarded Gear of the Year by Pro Moviemaker earlier this year.
"We are absolutely delighted with this award win, as it's not just within an individual category, but an overall best in show accolade. As with all our products, we develop and design our LEDs based on the needs of the industry and with a view to making the lives of cinematographers, DOPs, lighting gaffers and photographers that much easier, pushing the limits and focusing on innovation. This latest award just reinforces our commitment to keep challenging the status quo of the lighting industry," said Rod Aaron Gammons, MD of Rotolight.
www.rotolight.com
Top Related Stories
Click here for the latest broadcast news stories.