Broadcast News
06/08/2013
UCA Students Animate Live Performance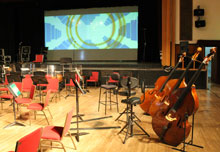 Students from the University for the Creative Arts (UCA) at Rochester were recently involved in a project to synchronise computer generated imagery to live classical music.
BA (Hons) CG Arts & Animation students produced a visual accompaniment to a live orchestral performance of Milhaud's La Création du Monde with a 17-minute animation.
The animated response was part of a special concert on 12 July in Thurrock, which featured music from L'Orchestre Symphonique de Bretagne, Chris Brubeck and the Royal Opera House.
Phil Gomm, course leader for BA (Hons) CG Arts & Animation, said: "Synching a 17 minute animation with a live performance of classical music presented us with a number of challenges but everything went beautifully on the night.
"There were gasps of delight from the audience as our animation ebbed, flowed and exploded in time with Milhaud's daring composition and the applause that followed was hugely satisfying for everyone involved."
More than 90 students spent 10 days creating hundreds of digital paintings where they were encouraged to add colour, texture, shape and form to the shifting moods and rhythms of Milhaud's jazz inspired composition.
334 original images were collated and animated by course graduates Tom Beg and Jordan Buckner and controlled the animation live alongside the conductor.
Mr Gomm said: "This project was hugely ambitious but invaluable in enriching the cultural and professional lives of our students and graduates.
"In this case, it wasn't simply an amazing opportunity to meet the real world demands of a live brief and work with some top organisations but it was also a chance for the course to work in fresh, new ways."
The performance was part of a project called ACT- A Common Territory, which is funded by the European Union's Interreg IVA Channel Programme and aims to engage the creative and cultural industries in the UK and France.
ACT will work to produce a series of professional performances over the next three years with 13 British and French partners, including UCA and the Royal Opera House.
Matt Lane, Head of Royal Opera House Thurrock, said: "It is extremely exciting and interesting to be working with such a diverse and creative group of partners from across the East of England and from France.
"Already, young people and communities are being engaged and inspired by this programme and I have no doubt that each final project culmination will be hugely inspiring."
UCA's Research & Enterprise department has been awarded £900,000 to actively participate in three of the EU's Interreg IVA Channel schemes.
In June, students from UCA Rochester's BA (Hons) Creative Arts for Theatre & Film degree designed and created the sets and costumes for Comedie de Picardie's French language premiere of Between the Acts by Virginia Woolf, which will be performed in France at various locations between September and November.
www.ucreative.ac.uk
(IT/JP)
Top Related Stories
Click here for the latest broadcast news stories.