Broadcast News
21/03/2018
Procam's Top 6 Most Popular Rental Cameras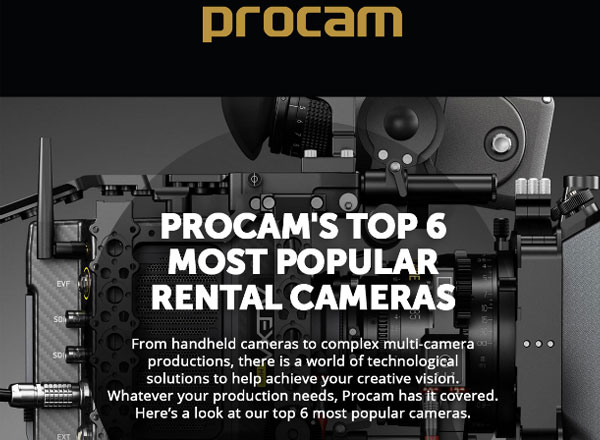 From handheld cameras to complex multi-camera productions, there is a world of technological solutions to help achieve your creative vision. Whatever your production needs, Procam has it covered. Here's a look at our top 6 most popular rental cameras.
1. ARRI ALEXA MINI
Leading the pack is the ARRI Alexa Mini, which gives the same great image quality as the original Alexa and has 4:3 shooting capabilities for anamorphic lenses, but is much lighter and smaller. The modular nature of the camera means building a custom layout to suit the needs of a production has never been easier.
2. SONY FS7
Sony's most popular model, the PXW FS7, is a great camera and remains well used thanks to its very competitive price. The Super 35mm sensor and easily available mounts makes it possible to use either EF or PL lenses. This makes the FS7 great for tailoring to specific productions' needs, from run and gun to full cinematic set-ups.
3. ARRI AMIRA
The ARRI Amira gives the same cinematic 35mm image as its siblings, the Alexa and Alexa Mini, while being designed to be more like a broadcast camera. Well suited for the single shooter, the camera has been ergonomically designed so that all the controls are in comfortable reach of#the operator.
4. SONY F55
The long-standing and competitively priced F55 remains the camera of choice for multi-camera productions that want a drama/film look, but don't necessarily want to pay more for ARRI cameras. DPs and camera operators that have grown up in the world of Sony naturally gravitate toward this camera.
5. CANON C300 MKII
The Canon C300 Mark II, EF and PL mount is easy to use and shoots a great 4K image. It's very popular with shooting producers/directors who want a shallow depth of field for a cinematic look. Plenty of extras are available in terms of rigs, making the C300 amazingly versatile and durable for such a small package.
Joint 6th Most Popular Cameras For Hire
6. SONY A7S MKII
The Sony A7S Mark II has the largest sensor out of the group, and while it isn't necessarily designed for professional video production, its 4K capabilities and excellent performance in low light means it's a very popular camera for B-roll, gimbals, drones and productions with a more restrictive budget.
6. SONY PMW 500 XDCAM
The Sony PMW 500 a trusted, tried and tested workhorse with a ¾-inch sensor. A diverse camera used by single operators and on large multi-camera shoots alike, the PMW 500 is always in high demand.
NEW KIDS ON THE BLOCK
• PANASONIC EVA1
• SONY VENICE
• ARRI ALEXA LF
With the release of various models with resolutions from 4.4K to 6K, manufacturers are pushing the boundaries of sensor technology and large-format cameras. It promises to be an exciting time, as these cameras are sure to have an impact on shoots across the board and in all areas of production.
From the first call through to the delivery of kit, our highly-experienced Account Managers work closely with you to provide bespoke solutions. Rest assured knowing that on-going consultation is part of our service to all our clients.
procam.tv
Top Related Stories
Click here for the latest broadcast news stories.