Broadcast News
16/03/2018
Carousel Digital Signage Software Made Fully Available On Apple TV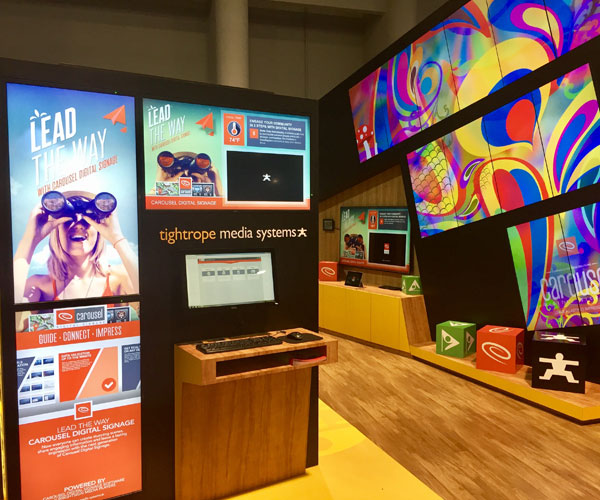 The full power of the Carousel Digital Signage Software has been available on Apple TV® after the launch of Carousel's new app.
The Carousel App offers unparalleled ease of configuration and deployment of devices, and is available now in the Apple® App Store.
The app will be showcased 28-29 March at Digital Signage Expo in Las Vegas.
"Anyone running a digital signage network, whether they are a small school district or a large enterprise network operating across hundreds of locations, can now use Apple's powerful, compact set-top boxes as their media players, with no compromises," said Eric Henry, President, Carousel Digital Signage, a division of Tightrope Media Systems.
The consumer devices offer a simple, affordable but extremely reliable option for district IT professionals and network operators, bolstered by an integration partnership between Carousel Digital Signage and Jamf, a device management provider that specializes in helping IT departments bring the Apple experience to corporate, education and government organizations.  
The Jamf integration allows the Carousel App and Apple TVs running on a digital signage network to be easily monitored and managed as remote IT appliances. Operators can now comfortably deploy and run large-scale networks, delivering dynamic HD and 4K content, on widely available, low-cost devices that present few of the management complications, reliability risks or security implications of full PC-based media players. Carousel Digital Signage will demonstrate the integration at Booth 1336.
"The user experience is slick and simple for setting up and managing Apple TV devices as media players," Mr Henry explained. "To get started, systems integrators and technology managers can go to the Apple tvOS App Store, get the Carousel App, point it at a Carousel server, and away they go. The learning curve is quick to be up and running with a very well-established, powerful digital signage platform."  
Henry stresses there is a vast difference between getting an app to do the basics of getting content to play on a screen, and delivering a fully-featured, fully-managed software solution that addresses the day-to-day demands and potential scale of visual communications networks.  
"The integration we've developed between Jamf Pro and Carousel is the real story," said Mr Henry. "Centralized control of Apple TV devices saves time and takes away a lot of the potential headaches involved in running large networks, allowing district IT, network operators and end users to focus more on the messages being delivered to their screens. It even offers the ability to disable AirPlay® to deliver important messages with the click of a button."  
Jamf is the leading Apple device management solution in K-12 schools, making the education sector particularly well-suited for the Carousel App. But Henry says the same capabilities and benefits can be applied to corporate campuses and other enterprise-class deployments that want to add our digital signage, or transition their network to a lower cost, more reliable and easily managed solution.  
"The overall strategy of this integration is to make scaling digital signage networks more affordable, and simplify the overall deployment, management and workflow for customers who desire to leverage the Apple platform," said Mr Henry. "The simplicity of the overall customer experience in marrying our digital signage with the Apple ecosystem is game-changing."  
"We're now in Version 7.1 of Carousel, which represents more than 20 years of development and refinement. It's a very deep and robust solution, yet we've fully refreshed our software and enhanced our user interface to make it intuitive and user-friendly. We've also been pleased to work closely with pilot customers and early adopters of the Carousel app since late summer in 2017, which has proven remarkably reliable and given us great confidence in the combined solution going forward."
www.trms.com/carousel
Top Related Stories
Click here for the latest broadcast news stories.