Broadcast News
05/12/2012
Big Sensor Cameras, Is This The Future For All Production?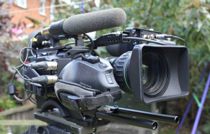 By Cinematographer Alister Chapman
Those of you that read my blog (
www.xdcam-user.com
) or follow the general production world trends on the Internet will no doubt have seen the meteoric rise the the large sensor camera over the last few years. It all started not with a big sensor camera, but with adapters for use on conventional cameras that used a vibrating or rotating ground glass the same size as a 35mm film frame. A film type or stills camera lens was attached to the adapter and used to project an image on to the ground glass. The ground glass was then shot by the video camera and the system gave the shallow depth of field normally associated with film cameras. Systems like the Letus or MovieTube were fiddly to use, bulky and full of issues, but they did create a very unique and distinctive look that was for some at least highly desirable. Then along came the video equipped DSLR, photo cameras like the Canon 5D MKII with added HD video capability. Suddenly there was a new breed of relatively low cost cameras that in the right hands could produce some pretty amazing results. A lot of the early work done with theses adapters and DSLR cameras was showcased on the Internet, right at the same time as high quality web based video services like Vimeo came to life. A new sub culture came to life on the internet shooting short films, typically music videos, with extremely shallow depth of field and a highly stylised look that took many cues from big budget movies, yet cost very little to put together.
The DSLR's however have issues. They are primarily stills cameras designed to take very high resolution still images, much higher resolution than a video frame. This excess of resolution leads to compromises in the way the video is read from the sensor which can lead to undesirable picture artefacts. However DSLR's have become incredibly popular for short films, web content and even some low cost movie production. Initially they were really only used on productions for the web and internet where many of there shortfalls were less noticeable, but very quickly they started to find there way into ever more prestigious projects and programmes. Not happy with some of the issues related to the use of DSLRs for video, some film makers started to seek out alternatives (the Letus adapters are still in use by some people today) and even started new companies to produce dedicated large sensor video cameras. Not wanting to miss out, the traditional video camera manufacturers decided that they too would like a slice of this emerging market and started developed cameras of their own. The big difference with the new cameras was that these would be designed for video production from the ground up, well at least most of them would.
Now just a few years on the market is full of large sensor cameras. The Super 35mm sized sensor dominates the large sensor market and all of these cameras use a single sensor as opposed to the more traditional 3 chip designs used in most broadcast cameras. The pace of change has been quite dramatic, how many of us thought that we would be considering using PL mount lenses or DSLR lenses for day to day video production just a few years ago? That pace of change continues unabated as now we start to see more and more higher resolution cameras with ever increasing numbers of pixels and new exotic codecs and recording methods like raw.
But what does this mean to mainstream camera crews and operators? Perhaps until now you haven't really taken too much notice of this trend, after all it was mainly an internet thing. Maybe you don't think it will affect you? Well think again! Super 35mm cameras have mainly had an impact on productions seeking to gain a more filmic look. Obviously this includes movies as well as many drama productions but also a lot of documentary productions and even corporate and wedding videos. However the one area where they really don't do so well is in so called "run and gun" scenarios like news, current affairs and observational documentaries. Why? Because the very shallow depth of field that makes these cameras so film like makes keeping that moves towards or away from the camera in focus very difficult.
In addition zoom lenses are either very expensive, extremely heavy or don't track focus like a more conventional broadcast lens. It is possible to get an adapter to use a broadcast lens on a Super 35mm camera, but you still have the shallow depth of field to contend with. But, maybe that's all about to change. Red have been doing this for a while on their cameras, but the Red workflow doesn't lend itself easily to news or run and gun. You see, when you have a very high resolution sensor, much higher than HD, like perhaps many of the 4K and 5K sensors starting to appear now, it's possible at HD to use just the centre portion of the sensor. By using a "centre crop" from a higher resolution sensor you can shoot at a lower resolution but using a smaller image circle. This makes it possible to design a camera that can be switched between being a 4k Super 35 mm camera and an HD 2/3" camera. So one camera with interchangeable lens mounts could be used one day as a Super 35mm movie making tool and the next as a 2/3" news camera with normal broadcast lenses etc. So those of you that think that large sensor cameras are something you don't need to think or know about, beware, maybe one day all cameras will use big sensors. A scary note is that some of the cheaper video capable DSLR's can already do something very similar as a kind of electronic zoom. Video camera technology is advancing at an incredibly fast rate right now. A lot of this is down to new electronic chips that can be programmed to do a multitude of tasks that previously would have required very expensive custom devices. These programmable chips can be erased and re programmed with new firmware so a cameras design and functionality can be changed and improved even after it's left the factory. The down side to this is sometimes in the rush to launch a new camera some of this "firmware" is properly developed and tested, so be careful which cameras you choose to take on any once in a lifetime assignments. Sometimes it's good to let the dust settle before you jump on the new camera band-wagon.
www.alisterchapman.com
www.xdcam-user.com
Top Related Stories
Click here for the latest broadcast news stories.