Broadcast News
15/02/2018
SMPTE's 'Magic and Miracles' Book Now Shipping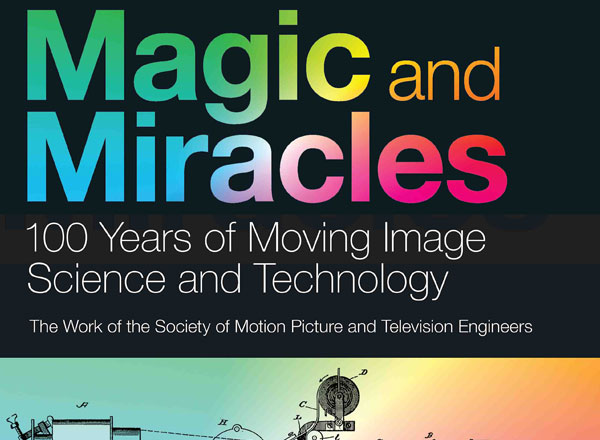 SMPTE® has announced that 'Magic and Miracles: 100 Years of Moving Imaging Science and Technology', a full-color, hardcover book documenting a century of innovation fueled by SMPTE's standards work, is now shipping.
SMPTE Executive Director Barbara Lange, said: "Tradition, resilience, agility, and adaptability have enabled SMPTE to thrive for more than a century on the leading edge of the development and standardization of motion-imaging technology, and 'Magic and Miracles' commemorates this achievement.
"We feel that the book provides an elegant and engaging overview of the work and contributions of the Society, and we hope that it will be an inspiration to the next generation of media system technologists."
Documenting a century of innovation fueled by SMPTE's standards work, the richly illustrated, 9-inch by 11-inch, full-color hardcover features more than 350 pages of historical photographs, movie stills, insider stories, and milestone events. Under the direction of Editorial Director Philip J. Cianci, "Magic and Miracles" commemorates the work of the Society and its members in the development of motion picture, television, and digital media technology. The book includes essays contributed by SMPTE Members, descriptions of landmark events, insights into the Society's standards development work, and archival material that documents the course of moving-image technology evolution.
Also available as a companion to "Magic and Miracles" is "The Honor Roll and Honorary Members of the Society of Motion Picture and Television Engineers." This limited-edition, 100-page, full-color hardcover showcases the industry leaders and innovators who have contributed their talents to SMPTE over the past century. Media technologists and nontechnical industry professionals alike will enjoy this commemorative book highlighting the lives and achievements of these remarkable individuals.
The book will remain available at its pre-order price — $59.94 for SMPTE Members and $75 for nonmembers — through March 15.
magic-and-miracles.org
smpte.org
Top Related Stories
Click here for the latest broadcast news stories.