Broadcast News
19/12/2017
BFV's Big Interview: Custom Consoles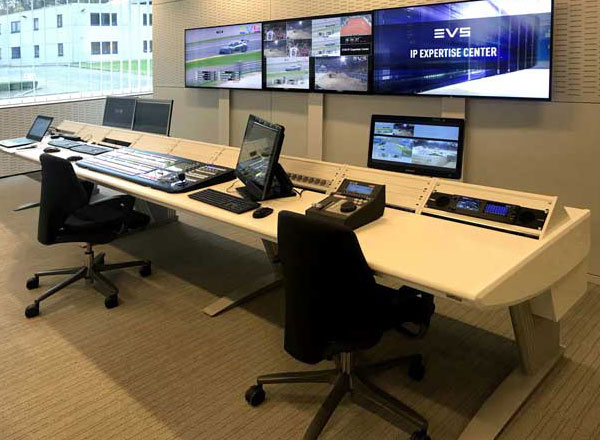 Established in February 1996 and based in Leighton Buzzard, Custom Consoles was originally incorporated as a specialist manufacturer to the broadcast industry, designing and building bespoke technical furniture. Today, the company manufactures furniture for a variety of industries with most requirements being met from Custom Consoles' standard product ranges. Broadcast Film & Video talks to Neil Reed, Managing Director, Custom Consoles about the firm's position in an ever-changing industry.
BFV: This is Custom Consoles' 21st anniversary year. What changes have you seen in the studio furniture business during that time?
NR: When we started the company in 1996, the transition to IT-based control was already in progress but there was still a lot of panel-per-product equipment which needed to be housed in control rooms and playout suites. Many studio installations are still in that hybrid condition today so we are still quite often asked to supply desks with fully integrate video production switchers and audio consoles. They are typically the front row desks in large production galleries. For the second and sometimes third row behind these, broadcasters generally specify desks accommodating a much higher proportion of IT equipment in supporting roles such as graphics.
Are IT-based desks easier to build?
Yes, and they can obviously be more compact as the worktops in many cases only need to accommodate a computer keyboard and mouse or trackball. But the same requirements exist to allow easy cable management, front and rear equipment access, good ventilation, operator-friendly ergonomics, robust construction and operator-friendly ergonomics. Many IT desks are also specified to include equipment pods for auxiliary devices such as talkbacks. Predictably, we are seeing increased demand for desktop power units, including USB charging.
Is the move to IP control influencing desk design?
That is another step along the IT-integration road. We recently produced a nine-bay Custom Consoles Module-R Lite desk for the new IP Expertise Center at EVS' headquarters in Liège. The new desk incorporates an EVS DYVI live production switcher and will be used to demonstrate EVS products in a fully operational IP production environment. Module-R Lite was introduced for use in latest-generation IT-based studios where long-reach worktops are unnecessary. The front to back depth of Module-R Lite is a more compact 95 cm than the 120 cm depth of Module-R. The desk is 4.7 metre wide and designed for use by up to three operators. Nine equipment pods with 45 degree slanted front panels are positioned along the rear of the main work surface, each pod housing up to three rack units of communications or auxiliary control equipment. Equipment installed in the desk can be accessed very easily via nine removable panels positioned along the rear. The desk should certainly help ensure EVS customers feel they are experiencing their product evaluations in the surroundings of a normal broadcast environment.
What other new projects have you worked on recently?
We have recently completed a project for a UK systems integrator for a large project based in Paris. This included two studios, graphics area, edit suites, audio suites and dubbing suites. All of these used a combination of the Module-R, Module-R Lite, EditOne and Media wall products.
For BCE at the new-build RTL City in Luxembourg we installed more than 40 control desks and monitor walls, with the majority specified from our Module-R and Module-R Lite ranges. Alongside these we also provided variants of the EditOne desks, Media wall and Media Posts. RTL City's technical facilities are located on three floors with a very large apparatus room at ground level. Floor 2 houses seven broadcast control suites plus the network operations centre. The broadcast control suites are each equipped with a Module-R desk and MediaPost video monitor display mount. Module-R desks and Mediapost video monitors were also provided for ingest rooms adjacent to the broadcast control suites.
Is styling an issue in studio furniture design?
Very much so, not least to impress customers' guests if they visit a high-profile studio facility. Over the past two years we have invested in new machinery enabling us to offer a range of special finishes. We are now using thermo-foiled worktops across our range of edit-suite desks. These deliver many benefits in terms of aesthetics, cost and choice of finishes, including aircraft-grade Kydex on the new EditOne Radio Desk. Another step forward is the ability to powder coat MDF, a difficult process on a non-metallic substrate. This allows customers to specify any colour of desk carcass whilst still maintaining durability.
Do customers prefer designed-to-order desks or standard models?
Designed-to-order is always the preference until customers realise the cost advantages of standard desks. Our most successful innovation was the Module-R series which provides the best of both worlds. Customers can specify exactly the desks they need from a standard range of modules. That has also proved very popular with system integrators working on behalf of their clients.
What is your latest product?
EditOneRadio Desk. This can be configured to match a wide range of audio production environments including live radio broadcasting. Developed from our established EditOne edit suite desk, it shares the same modern styling and goes beyond traditional studio furniture construction by using sculpted MDF support panels rather than metal legs. Studio guest work surfaces can be attached to left or right the side of the EditOne-Radio desk, or on both sides, bridging across to an optional pedestal accommodating up to 11 rack units of equipment. Three mounting points are located along the rear of the desk to accommodate a microphone and flat screen display monitors. An additional mounting point can be used to support the guest microphone. The guest's work surface is fitted with an acoustically damped surface to minimise noise. EditOne and EditOne-Radio are both available as flatpack workstations which can be assembled in less than an hour by the customer using simple supplied tools. An on site assembly service is available if required.
Other recent introductions include the new Media Post to complement our Media Wall range of products. MediaPost is a free-standing portable monitor mount matching the styling and rugged build quality of the established MediaWall. It can be moved easily around a studio or used to supplement existing control room displays. It accommodates monitor panels of up to 65 inch diagonal screen size and auxiliary devices such as loudspeakers. Applications include studio floor monitoring, script display prompts and in-view studio backgrounds.
Each MediaPost is constructed from extruded aluminium profiles, black or silver anodised, forming a rigid 1,800 millimetre high column. These are supported by a 700 mm wide x 590 mm front-to-back base fitted with rear wheels to allow easy positioning. The base and a middle-height equipment shelf are finished in a matte black powder coating. Loudspeaker mounts are available if required. An optional horizontal beam matches the finish of the vertical columns. MediaPost is fully height-adjustable to ensure sight lines are optimised when using tilting screen mounts. Cables can be fully concealed behind removable covers. Like MediaWall, MediaPost comes with a two-year guarantee against component failure during normal use.
customconsoles.co.uk
Top Related Stories
Click here for the latest broadcast news stories.