Broadcast News
24/01/2018
HbbTV On A Silver Platter From Stream Circle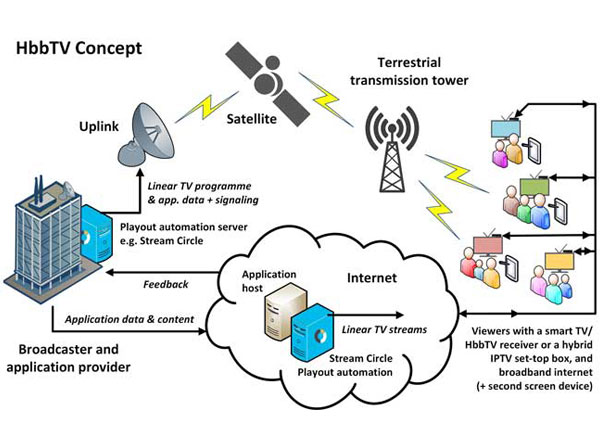 Until recently, broadcasters and viewers have both been limited by the different standards applicable in their host nations.
Thanks to the digitisation of TV broadcasting, these barriers have now been broken down and HbbTV (Hybrid Broadcast Broadband TV) as one of the new industry standards is rapidly being adopted worldwide. As the picture illustrates, HbbTV delivers digital television content from different sources comprising traditional TV broadcasting and internet. HbbTV is an industry standard for hybrid digital TV to harmonise the broadcast, IPTV, and broadband delivery of entertainment to viewers via either a smart TV/HbbTV receiver or a hybrid IPTV set-top box containing an Ethernet interface together with a digital TV tuner. HbbTV was first demonstrated in 2009 and has since been adopted globally, especially in Europe.
As is often articulated on discussion forums, the new standard is rapidly bringing greater choice and flexibility, both positive advancements in the viewer's experience. This more internet-like environment is able to offer audiences interactive content and numerous options how to react to the programme, live, as it happens. On the other hand, what is not generally articulated, is that HbbTV (and especially from the 2.0 release, introduced in DVB-T2) promises huge benefits to broadcasters as well. The fact is that broadcasters may now choose to distribute their TV programmes in two different ways. Either the signals travel traditionally via uplink through a satellite to the viewers' TV set, or they take a much easier route via the internet to the TV set.
"Imagine for a moment, all of the hardware and manpower costs this new paradigm will undoubtedly save!" says Lenka Vasicova, Consultant with Stream Circle, and continues: "Then think further, of all the myriad possibilities this will bring!"
But are these ideas truly realistic? Is the infrastructure really ready for IPTV to become an industry standard? On the one hand, the broadband internet infrastructure is already in place. More than 80% of European households in all 27 states enjoy broadband connectivity according to Eurostat.
However, that is insufficient for our purposes. The revolution is coming as households are more and more prepared for HbbTV in their domestic hardware. This change is well underway, coming sooner rather than later. HbbTV service has now been introduces in almost all European countries and more than 50% of European networks have HbbTV functionality in regular operation. And even more importantly, many have already announced specific dates in the near future for an upgrade to DVB-T2 only, forcing households to also upgrade their TV sets in order to enjoy this new "magnificent quality".
As a growing number of households become ready, there will be nothing to stop both new and traditional networks from switching to IPTV distribution, significantly reducing costs and thereby increasing profitability.
One of the pioneering main players, Stream Circle, have already been working to prepare their TV automation platform for several years. Their cloud based, "game-changing" service transforms content delivery into a live TV data stream, which can then be easily distributed to households everywhere. Last but not least, Stream Circle allows a simple interchange between DVB-T, HbbTV and IPTV channels. Thus, broadcasters are no longer tied to their traditional practices. Broadcasting once seemed a privilege only for the few. Now it is becoming a possibility for everyone.
Author: Martin Junek
streamcircle.com
This article also features in the January edition of Broadcast Film & Video.
Top Related Stories
Click here for the latest broadcast news stories.