Broadcast News
20/11/2017
WORK PRO Launches LightShark Range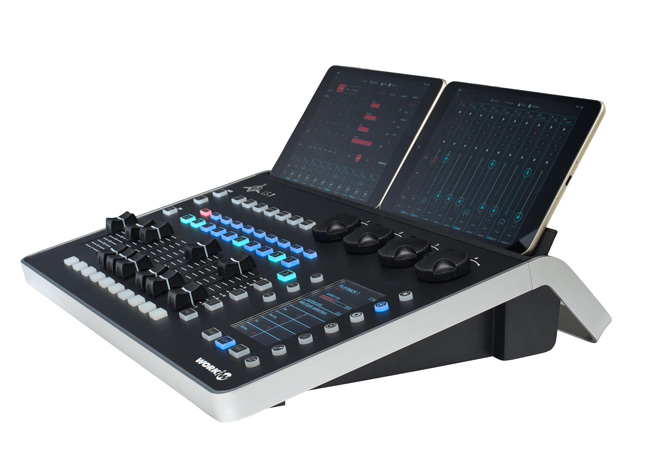 WORK PRO has launched LightShark, a new range of hardware lighting consoles, at Live Design International (LDI) in Las Vegas.
The DMX-based hardware lighting console range offers wireless, browser-based control from a multi-touch smartphone or tablet, with support for up to three connected devices simultaneously,
Currently, the LightShark range consists of two independent products, the LS-1 and the LS-Core console. The LS-1, retails for €1,199 (MSRP), while the LS-Core, retails in the EU for €499. The latter omits the LS-1's hardware control surface but offers the same lighting control software, processing power, and smartphone/tablet-based software control interface.
The systems include detailed control of colour and gobo options via palettes, comprehensive grouping options, CueList operation with up to 1200 Cues and Lists, customisable automation via a graphics-based Executor window, and special effects such as fanning, LightShark offers control over a total of eight 512-channel DMX Universes, plus built-in support for an ever-growing library of lighting fixtures. A Fixtures editor is built into the console for those that wish to modify or customise Fixture control templates.
As the LightShark control software runs on the console itself, and the WiFi-connected tablet or smartphone is merely controlling it via a simple web browser, the control software is fast and responsive, and offers the benefits of real-time, multi-touch control. For those who prefer control via a physical user interface, once set up and assigned, all aspects of the LS-1 system can be controlled entirely from the hardware surface. The LCD display on the right of the control surface shows how the physical controls are assigned at all times, and updates when the user switches between control assignment Layers. LS-1 users have the freedom to control their lighting systems via the browser-based control software, a combination of the LS-1 hardware and their preferred mobile device, or the LS-1 hardware alone.
All of the required hardware interfacing is available on the back of the LS-1 console (including Artnet, a 5-pin DMX Out for control of one 512-channel DMX Universe, and an Ethernet port for access to a further seven DMX Universes), along with a USB connector for updates. There is also a built-in stand to hold an iOS or Android device on the back of the LS-1, and an extra, dedicated USB charging socket on the rear panel to keep associated tablets or Smartphones charged at all times. Designed from the ground up as a complete lighting control system, and shipping with the browser-based control software pre-installed on the WiFi-enabled console (Safari, Chrome Firefox and Opera are all supported), the LS-1 includes everything apart from a suitable tablet or Smartphone in its retail price, including a rackmounting kit.
Juan Jose Vila, Chief Sales Officer, WORK PRO, said: "The LS-1 console was designed to fill what we perceived to be a significant gap in the lighting control market. At the top end, you have traditional hardware lighting consoles costing many thousands of Euros – even the smallest of these still retail for at least 1500 Euros. At the opposite end of the market, there are many software-only control systems or apps, some with innovative automation and control features which are very popular with lighting professionals. These are available for maybe just a few hundred Euros at most – but you have to have a computer and DMX interfacing hardware to complete the system, plus a hardware controller if you prefer not to work with a mouse. Such a setup is less of an elegant system, more a collection of loosely related hardware, and it's not very portable or hard-wearing when it comes to rigorous use at live events or in theatres. We thought we could do better, partly inspired by some of the excellent software user interfaces that have been developed for consoles in the pro audio market recently.
"What we wanted was to design a lighting control system that would combine the versatility of the software solutions with the ergonomics, built-in interfacing, and physical usability of a hardware console – but to keep the price as close to 1000 Euros as possible. Utilising the readily available advanced graphical capabilities of modern smartphones and tablets for our control interface has meant that we didn't have to reinvent the wheel for LightShark, which has helped to keep the price down. The LS-1 is the result, and we're very proud of it. The LS-Core is an even more affordable option for installations where real-time control via a physical interface is less important."
Both the LS-1 and LS-Core are expected to ship early in 2018.
www.workproaudio.com
(JP/MH)
Top Related Stories
Click here for the latest broadcast news stories.