Broadcast News
20/01/2020
Custom Consoles To Refine Control Room Furniture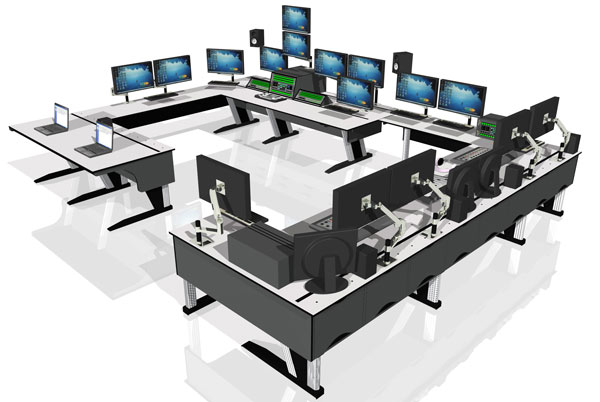 Custom Consoles is commemorating its 24th anniversary in 2020 with refinements to its Module-R range of control room furniture, MediaWall monitor display supports and SystemTwo edit-suite desks.
The company was established in 1996 to meet the market demand for efficient and robust studio furniture at accountant-friendly prices.
Introduced in 2005, Module-R allows broadcast desks to be configured in a variety of shapes and dimensions from a selection of pods, base sections, 19 inch rack housings, worktops, end-panel modules and legs. Coordinated desk pods are available as single-bay sections with up 10 rack unit chassis capacity. Module-R has been tested by FIRA to ensure compliance with current ISO standards. It is supplied with full cable management and internal 19 inch racking, accessible via removable front and rear cover panels. All rear surfaces and pods are completely interchangeable. A full length cable brush enables unrestricted cable entry and exit anywhere along the length of the desks.
"We have expanded the range of options to include slimmer legs plus a removable rear work surface which allows easy access to cableways," says Custom Consoles' Managing Director Neil Reed. "A full length rear cable brush strip provides greater flexibility for power and signal feeds to desk-mounted monitor arms. Optional full-height end panels are now available. Customers can now choose CDF (Compact Density Fibreboard) for pods and work surfaces. CDF is increasingly being recommended by architects both for its attractive styling and its robustness. Latest-generation Module-R desks also now come with a steel cable tray as standard rather than PVC, providing greater strength and eliminating the environmental issue of recycling plastic components."
First announced in 2006, Custom Consoles' MediaWall allows flat-screen monitor displays of practically any width to be constructed from standard horizontal and vertical support elements. MediaWall can be used as a fully self-supporting structure or coupled directly to the studio wall. Individual screens can be positioned so that the edges meet exactly to form a continuous horizontal display limited only by the boundary of the monitor panel itself. All wiring is fully concealed and can enter or leave the structure at any desired point. MediaWall is available in any specified element widths.
"The enhanced version incorporates redesigned lateral support beams which allow display panels to be attached more easily," adds Sales Manager Gary Fuller. "Cable management is now via steel ducts which are stronger than their PVC predecessors; they are also and more attractively styled which customers will appreciate in open-plan control rooms. The supporting legs are now a silver extrusion with a black cable management insert to match the latest Module-R desk styles which we introduced at IBC 2018."
At IBC 2019 in September, Custom Consoles introduced an upgrade to its SystemTwo motorised height-adjustable graphics-suite desk. Lifting power is increased from 140 to 240 kg, providing extra stability and standardising the actuators used across the company's product ranges. Designed for use in edit suites and graphics areas, SystemTwo comprises a rectangular desk and parallel monitor shelf, both being electrically height adjustable from 660 to 1200 mm. This gives operators the choice of working while seated or standing. Other elements in the SystemTwo series include an 11U equipment pedestal, underslung 3U equipment pod and 27U equipment bay.
The same increase in lifting power applies to SystemTwoLite, a rectangular single-surface version of SystemTwo comprising an 1800 mm wide by 800 mm deep worktop fitted with three monitor arm mounting points. Five mains outlets, a USB hub and an optional RJ45 outlet panel are mounted on the rear of the cable box.
www.customconsoles.co.uk
Top Related Stories
Click here for the latest broadcast news stories.