Broadcast News
13/11/2017
Imagine Communications' Supplies Router For OB Truck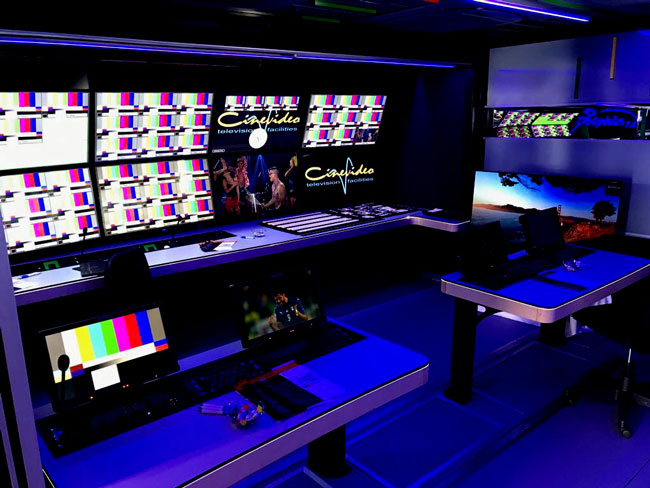 Imagine Communications has supplied the core infrastructure, including a multi-format router, for a new outside broadcast truck built by Italian production company Cinevideo.
The 12-meter, triple-expanding unit provides up to 60 square metres of internal space. It accommodates two production and two audio control rooms, giving Cinevideo the flexibility to provide multiple versions of an event, or to provide both coverage of a sporting event and the commentary from one truck. To deliver flexibility, Cinevideo required that its new truck handle HD and 4K/UHD resolutions, as well as standard and high dynamic range signals, simultaneously.
Monitoring large numbers of sources in different formats led to a requirement for 24 monitors, both full HD and 4K, which can each be configured as HD mosaic, quad splits or single 4K displays.
As well as providing multiviewer capability and the ability to switch large numbers of signals, the Platinum IP3 by Imagine Communications also handles video up and down conversion, audio multiplexing and de-multiplexing and discrete AES and MADI. All of this functionality is provided in a single 15RU cabinet. The architecture of the Platinum IP3 allows it to simultaneously switch both SDI and IP-based video and audio signals.
Mathias Eckert, Senior VP EMEA and APAC at Imagine Communications, said: "The Platinum IP3 is proving to be a mobile production core infrastructure workhorse, increasingly recognised for its versatility, reliability and support for hybrid production environments. The IP3 is helping innovative companies such as Cinevideo meet today's customer requirements and whatever the future might bring."
"Dolphin-7 has been designed to be as flexible as possible, to accommodate a variety of events and to meet all customer requirements," added Andrea Buonomo, Executive Sales Manager at Cinevideo. "Versatility is a key function in live production and the quick configurability of the IP3 helps us seamlessly move from different productions – or even to different clients for the same production – without the downtime normally required to prepare a mobile production unit. We chose the IP3 router to empower our operators with the ability to switch configurations at will and handle native 4K along with 3G or HD signals simultaneously."
www.imaginecommunications.com
(JP/MH)
Top Related Stories
Click here for the latest broadcast news stories.