Production News
02/11/2017
Christmas Special For 'Old People's Home For 4-Year-Olds'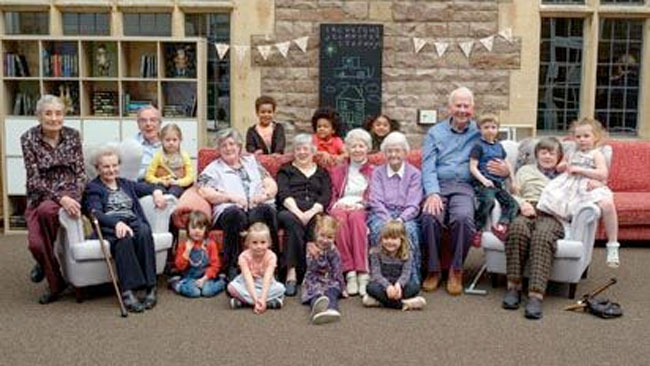 Channel 4 has confirmed the commission of a special festive edition of Old People's Home for 4-Year-Olds.
The 1x60' Christmas special will return to St Monica Trust and see the residents reunited with some of their young friends to find out how taking part in the series has impacted their lives.
A two-part series of Old People's Home for 4-Year-Olds first aired in August. The show was inspired by an American scheme which brought together a group of pensioners and a group of four-year-olds for a six-week period in an attempt to scientifically prove that these two generations can transform the physical, social and emotional wellbeing of the old volunteers for the better.
For the first time, a team of geriatric specialists medically tested the impact the children had on the older group and delivered significant results, showing major improvements in the mood, memory and mobility of the older residents. However, what has happened since the experiment ended? Are the older group still showing signs of progress? Did the friendships with the children and their families develop further?
Channel 4, in partnership with Age UK brokered by media agency MG OMD, will aim to answer these questions in the Christmas special. The episode will see the older adults and children prepare for a festive Carol Service to which their families will be the guests of honour – and Santa Claus and his reindeers may also make a cameo appearance. The three geriatric specialists – Professor Malcolm Johnson, Dr Zoe Wyrko and Dr Melrose Stewart – all return to share their insight into the continued progress of the older group as well as focussing on loneliness and its impact on the elderly, paying particular attention to why Christmas is such a tough time for older people.
Old People's Home for 4 Year Olds at Christmas (w/t) was commissioned by Channel 4 Commissioning Editor for Factual Entertainment Lucy Leveugle. The special will be made by CPL Productions (a Red Arrow Entertainment Group company) with Murray Boland, Danielle Lux and Trish Powell as executive producers.
Lucy Leveugle, Channel 4's Commissioning Editor for Factual Entertainment, said: "With social isolation amongst the elderly such an issue, seeing the impact the children had on the older adults made not only for a heart-warming watch but had real-life legacy. We are delighted to be back at St Monica Trust to see how our contributors' lives have changed and to highlight the very real issue of loneliness amongst the elderly at Christmas."
Trish Powell, Executive Producer for CPL Productions, added: "In this Christmas special we are hoping the children and their older friends can work together to highlight the impact of loneliness on older people everywhere."
Caroline Abrahams, Charity Director at Age UK, commented: "At Age UK we're thrilled that this much-loved show will be highlighting the loneliness and isolation that suck the joy from life for so many older people, and the simple things we can all do, at every age, to help them, both at Christmas time and throughout the year."
www.channel4.com
(JP/LM)
Top Related Stories
Click here for the latest broadcast news stories.