Production News
01/12/2017
Star-Studded Cast For 'A Christmas Carol Goes Wrong'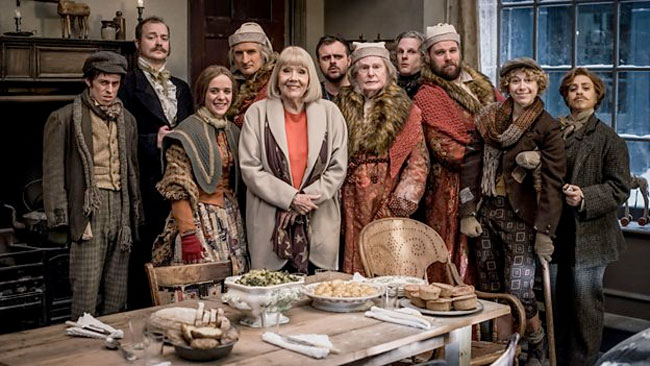 A star-studded cast has been confirmed for 'A Christmas Carol Goes Wrong', which is set to air on BBC One this Christmas.
This adaptation of Charles Dickens' class Christmas tale will star Sir Derek Jacobi as Ebenezer Scrooge in the BBC's "professional" production of A Christmas Carol, until it is hijacked by the Cornley Polytechnic Drama Society and he is removed from the project while on air.
Cue Dama Diana Rigg – playing the aunt of Sandra, one of the Cornley crew – who steps in as the narrator, as well as on the accelerator as she races against the clock to make it to the recording before the curtains close.
'A Christmas Carol Goes Wrong' by the award-winning Mischief Theatre Company is a BBC Studios Production for BBC One and is being filmed at MediaCity UK in Salford.
Sir Derek Jacobi said: "It's always a delight to be reacquainted with Dickens and A Christmas Carol is emblematic of this time of year. I hear that last year's festive theatre production was an all-out shambles, but thankfully the BBC has called in the professionals for this one."
Dame Diana Rigg added: "I can't wait to bring merriment and mischief to audiences this Christmas, with the wonderful Cornley Polytechnic Drama Society. And I have also been entrusted with another very important job – all will be revealed soon but let's just say hearts will be warmed this winter."
Shane Allen, Controller Comedy Commissioning at the BBC, commented: "A Christmas Carol Goes Wrong was already shaping up to be a seasonal highlight but with Sir Derek Jacobi and Dame Diana Rigg joining the cast it's an unmissable television event. Let's hope nothing goes wrong."
www.bbc.co.uk/mediacentre
(JP)
Top Related Stories
Click here for the latest broadcast news stories.