Broadcast News
19/10/2017
Camera Corps Unveils The New Qx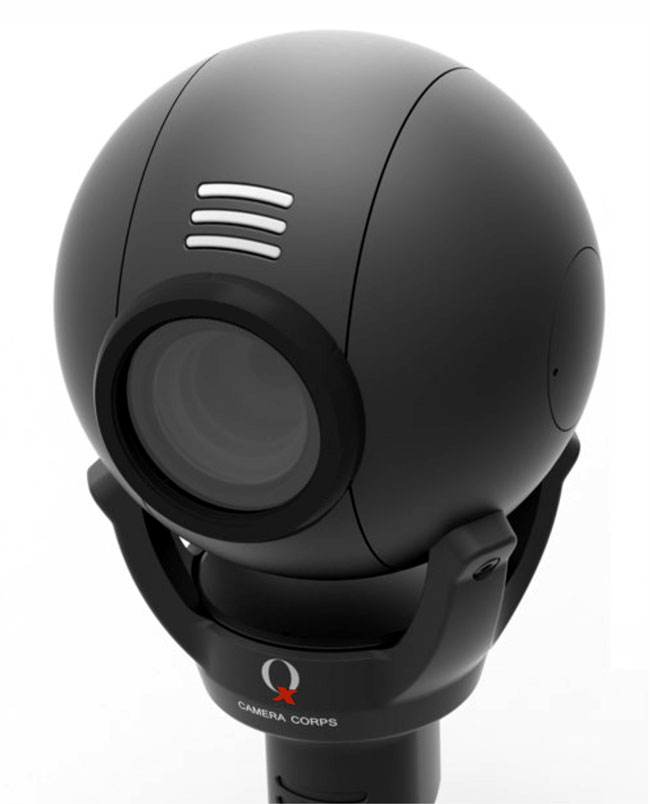 Camera Corps has previewed the new Qx miniature robotic pan/tilt/zoom/focus camera head at NAB Show NY this week.
The Qx incorporates features of the Q-Ball and Q3 products, as well as a more advanced camera module. Introduced for both rental and purchase, the Qx incorporates a high-specification 1/3-inch CMOS Full HD sensor delivering 1080p60, 1080p50, 1080i and 720p. A shutter with a speed range of 1/4 to 1/8,000 second is built-in. Imaging sensitivity is F5.6 at 2000 lux and minimum illumination level at F1.6 is 1.5 lux. Enhanced IR capability allows live video capture in zero visible light conditions using infra-red illumination.
Other features of the Qx include an integral 18x zoom lens, automatic exposure, auto white balance, colour correction, edge enhancement, noise reduction and gamma control, while genlock allows synchronisation with other equipment. Among the new capabilities are 3D noise reduction and shading correction.
Compatible with existing Camera Corps control systems, the Qx robotic pan/tilt/zoom/focus head can be rigged with just a single cable to the head. Provision is made for easy user control programming. Continuous D1 format virtual-reality data is available for elaborate motion control requirements. Combining the Qx with Camera Corps' SIMPLY SMPTE hybrid electro-optical links allows secure operation over distances of 5 kilometres or more.
Barry Parker, Commercial Manager, said: "The Q-Ball took the broadcast market by storm when Camera Corps introduced it in 2009. The Q3, which followed in 2014, delivered higher video quality and greater optical zoom power, giving producers the freedom to mix the output more easily with that of full-size studio and OB cameras.
"We have retained the spherical shape and compact dimensions which made the Q-Ball and Q3 exceptionally easy to conceal from other cameras. The Qx also makes a great commentator camera. Comparable in diameter with a DVD, it incorporates a fully motorised drive giving smooth on-air control of pan, tilt, zoom and focus. Over 100 Qx heads can be operated from a single joystick panel. Also retained is the high precision motor system for which Q-Ball has long been renowned, enabling remote operators to match the precise acceleration and deceleration of much larger robotic heads when tracking moving performers on-air."
Image: Camera Corps Qx miniature robotic pan/tilt/zoom/focus camera head.
www.cameracorps.co.uk
(JP/LM)
Top Related Stories
Click here for the latest broadcast news stories.