Broadcast News
22/09/2017
SAM Launches Alchemist XS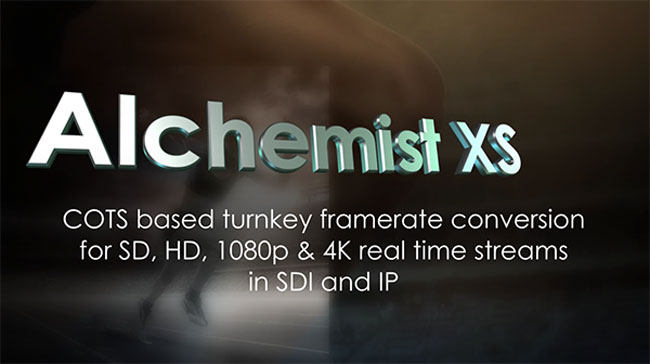 Snell Advanced Media (SAM) has launched Alchemist XS, delivering motion compensated framerate conversion for live IP and SDI media streams.
Alchemist XS is aimed at any live broadcast application that demands the best in motion compensated conversion to ensure smooth, high-quality images – this is particularly the case with live sports, where the content is fast and dynamic. Built on SAM's Alchemist Ph.C. technology, it provides motion compensated framerate conversion for real time IP and SDI media streams, with native support for SD to 4K UHD video. The system is delivered on a COTS server platform and supports real time 4K UHD frame rate conversion or multiple channels of HD conversion.
Alchemist XS delivers clear and sharp images without the need for complex optimisation settings and solves the problem of artefacts during realtime IP/SDI conversion up to UHD. Poor conversion can result in doubling of imaging on moving objects, loss of resolution, jerky or inconsistent motion, and loss of object integrity, with objects breaking up and changing shape; Alchemist XS eliminates these issues.
Robert Szabó-Rowe, EVP and General Manager, Live Production and Infrastructure, SAM, said: "Quality is everything when it comes to protecting a broadcaster's brand making it more critical than ever that the final image delivered to viewers is not compromised in any way. This is particularly important when we're talking about UHD, where viewer expectation is even higher. Alchemist XS draws on SAM's heritage for world class conversion technology and industry leading IP capability to deliver the best live conversion in the world capable of handling any format or framerate."
www.s-a-m.com
(JP/MH)
Top Related Stories
Click here for the latest broadcast news stories.