Broadcast News
08/09/2017
Rohde & Schwarz To Appear At IBC2017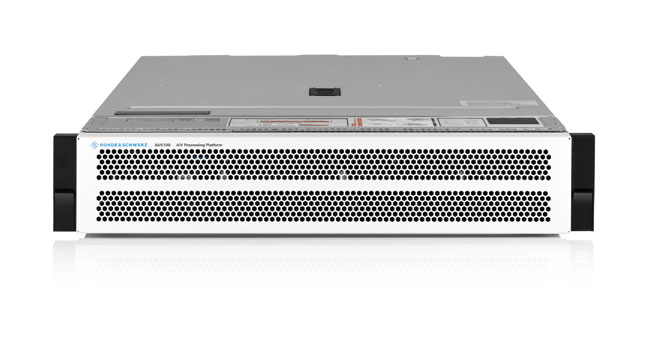 Rohde & Schwarz will unveil an encoding and multiplexing solution, with premium transcoding for OTT live streaming, at IBC2017, Stand 7.E25.
The company has enhanced its R&S AVHE100 encoding and multiplexing solution by adding premium-quality adaptive bit rate (ABR) encoding as well as packetizing for all established formats for OTT live streaming. The R&S AVHE100 also supports HDR video transmissions.
With the latest enhancement, the R&S AVHE100 can generate streaming formats in parallel with broadcast multiplexes on a single platform. The solution provides ABR encoding; that is, it simultaneously encodes multiple OTT live streams using several different video profiles so that the consumer receives the best possible resolution, depending on the quality of the data connection. The integrated packetizer supports all common formats such as MPEG-DASH, CMAF, HLS and MSS, supporting a range of user devices.
The Rohde & Schwarz solution performs switchover between SDR and HDR content and also supports mixed statistical multiplexing for traditional broadcasting. The statistical multiplex function means a utilisation of data rates, making it possible to achieve higher picture quality for the transmitted programs or to broadcast more programs at a time. The R&S AVHE100 also supports a mixture of different video codecs, including MPEG-2, MPEG-4/H.264 and HEVC, and resolutions, such as SD, HD and UHD.
A fully software-based solution that employs standard IT components, the R&S AVHE100 has an integrated headend management system lets users control and monitor the entire workflow via a single web interface. Enhancements and improvements to coding and transmission standards can be added, reducing capital and operating expenditures (CAPEX and OPEX) for installation, space, energy and cooling requirements, spare parts management and training. In addition, customers can conclude multi-year service level agreements (SLA) for 24/7 international support for enhanced investment protection.
The R&S CrossFlowIP function provides redundancy for both input and output signals through seamless switchover between the main and the alternate path. In this way, the R&S AVHE100 ensures uninterrupted live transmission in the event a fault is detected and during maintenance.
David Smith, Marketing Manager for Encoding and Multiplexing Technology, Rohde & Schwarz, said: "The launch of the R&S AVHE100 4K/HDR scalable video and audio processing platform is a significant step toward the cost-effective deployment of UHD/HDR services alongside legacy SD and HD content. The encoder is widely acknowledged as the industry leading HEVC codec with full support for PQ and HLG as well as legacy codecs and formats."
www.rohde-schwarz.com
(JP/LM)
Top Related Stories
Click here for the latest broadcast news stories.