Broadcast News
18/02/2013
SIS LIVE Supports Sky Sports With DriveForce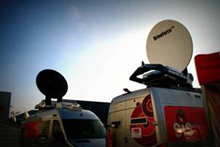 SIS LIVE has announced the deployment of a new 1.8m vehicle-mounted antenna DriveForce® to support Sky Sports News, as well as other customers.
The new vehicle features the ability to transmit at any location, including those where exceptionally windy conditions prevail.
SIS LIVE is currently operating a new dedicated DriveForce SNG truck for Sky and has launched an additional 6 DriveForce vehicles.
Keith Lane, head of operations, Sky, says: "DriveForce is a great innovation and addition to the SIS LIVE fleet, enhancing the services provided to Sky Sports."
With increasing demand for high bandwidth HD transmissions, many existing systems use mounts developed for small aperture antennas, bolstered to take a larger reflector, thus compromising the design. With DriveForce, SIS LIVE have adopted a 'grass roots' approach, ensuring that the mount is optimised to carry the large antenna and capable of operating in wind speeds of up to 60mph, almost double that of competing products. The ultra-high performance carbon fibre system is fully automated, capable of very high bandwidth or dual path transmissions and can find and track any satellite within seconds.
David Meynell, managing director, SIS LIVE says: "DriveForce is a market-changing innovation, of a higher quality than any other system on the market today and will enable us to offer even better levels of service to new and existing customers."
Continuously innovating broadcast and satellite solutions, SIS LIVE's in-house team design and build a range of award winning products.
www.sislive.tv
(IT/GK)
Top Related Stories
Click here for the latest broadcast news stories.