Broadcast News
21/05/2003
Kramer launch FC-2 USB RS485 and RS-422 converter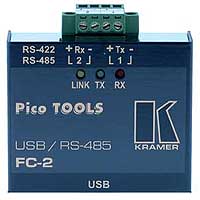 Kramer Electronics UK has launched an FC-2 bi-directional USB to RS-485 and RS-422 converter at the Production Show in Olympia.
The Kramer FC-2 is an adjustment-free, bi-directional USB to RS-485 or USB to RS-422 converter that incorporates the USB, RS-485, and RS-422 video and presentation industry interfaces. The machine can operate, using high quality cables, for a range of up to 1200 meters (3,937 feet). The FC-2 is housed in an ultra-compact Kramer Pico TOOLS ® enclosure (approx 2 ½" x 2 ½" x 1") and uses the power provided by the USB port.
"The FC-2 is a unique device that can be used for several applications. For example, although most new laptops have a USB port, many no longer have an RS-232 port. This device allows additional connectivity via the USB port when RS-232 is not available," said Mike Roberts Technical Manager Kramer Electronics UK.
For more information about Kramer's products visit
www.kramerelectronics.co.uk
(GB)
Top Related Stories
Click here for the latest broadcast news stories.