Broadcast News
07/06/2017
Shure Previews Axient Digital In UK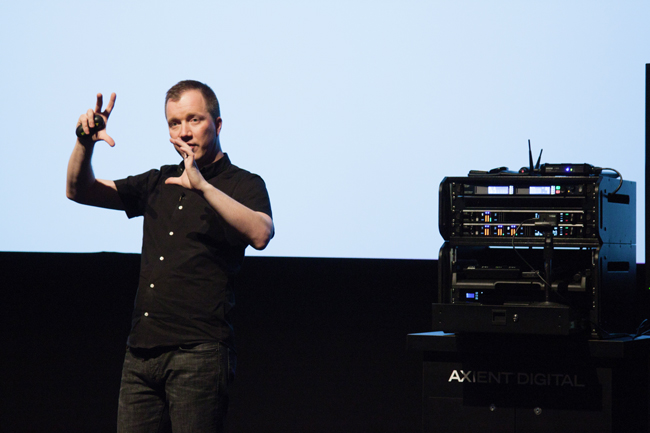 Shure has previewed its new wireless microphone system, Axient Digital.
Announced at NAB 2017 in April, Axient Digital takes the audio performance, wireless operation, automatic interference detection and avoidance, and transmitter remote control and monitoring features offered by Shure's previous analogue Axient wireless systems, and builds these features into a scalable system with an ultra-low-latency, high-channel-density digital RF engine, offering AES256 encryption and advanced connectivity as standard.
Recently, Shure invited representatives and consultants from the UK's theatre, broadcast and live sound, corporate AV and installed sound industries to London's Royal Academy of Dramatic Art (RADA) for a technical preview of the system. A total of three sessions introducing the system were held during the day to accommodate attendees. Each session was led by Shure UK's Pro Audio Group Manager Tuomo Tolonen. At RADA, Tolonen summarised the components of the new Axient system and explored its capabilities in detail, explaining the system's suitability for each of its target markets. A Q&A was also held at the end of each session.
"Demand for convenient and utterly reliable wireless systems in the theatre sound, live music, and corporate and installation audio markets is still rising, even though the range of RF frequencies available for radio microphone usage all over the developed world is shrinking because of spectrum sell-offs," said Tolonen. "The pressure is on, because audio failure in most of these markets is not an option. Axient Digital is Shure's response to these challenges, and we're delighted – although far from surprised – at the healthy interest it has attracted."
Axient Digital is due to begin shipping this summer with the AD series handhelds and bodypacks. The ADX series transmitters, including the ADX1M – a micro-bodypack with an internal, self-tuning antenna aimed at the theatre, broadcast and corporate audio markets – will be added in the new year.
www.shuredistribution.co.uk
(JP)
Top Related Stories
Click here for the latest broadcast news stories.