Broadcast News
22/08/2017
Ikegami Launches UHK-435 Camera At IBC2017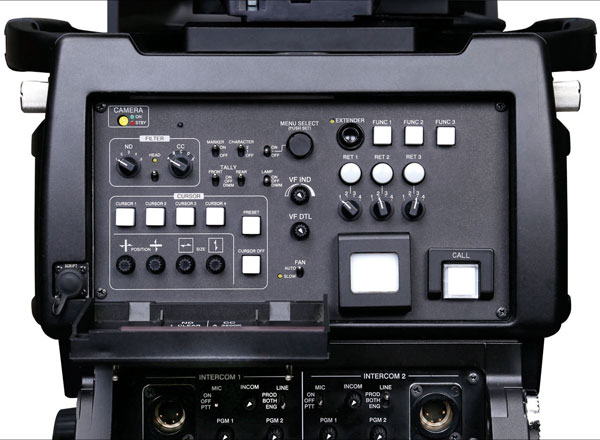 Ikegami has announced that it has launched the latest addition to its UNICAM XE series the UHK-435. Alongside this Ikegami will exhibit a range of updates to its existing product line at IBC2017, taking place 14th – 19th September, at the RAI, Amsterdam.
The UHK-435 is the world's first 2/3-inch 3-CMOS sensor 4K/HD studio camera. It captures the extended depth of field required for studio and outdoor production and can be used with B4 bayonet-mount large studio or OB lenses.
The camera delivers wide dynamic range and wide colour gamut, fully supporting HLG (Hybrid Log-Gamma) conforming to HDR International Standard (ITU-R BT). UNICAM XE series peripherals such as the CCU-430 camera control unit, VFL 701 D 7-inch full HD LCD viewfinder and 7.4-inch OLED viewfinder are fully compatible with the UHK-435.
The viewfinder can be positioned close to the extended line of the optical axis. Interfaces are available for a wide range of signal protocols including Quad 3G-SDI, 12G SDI and IP.  
With HDR taking centre stage, the latest addition to Ikegami's Unicam HD camera series the HDK-73, which was launched at NAB 2017, will now boast HDR compatibility. The camera, which features F13(1080i50) high sensitivity 2/3-inch CMOS sensors with exceptional picture quality in either 1080i or 720p, now features a HLG hybrid log gamma for HDR picture origination. This new feature means it is now possible to shoot a scene with high dynamic range without losing gradation in the highlights.  
Other additions to Ikegami's pipeline include a new 12G-SDI interface option for its CCU-430. The new 12G-SDI interface allows greater flexibility for content creators, with the CCU-430 also designed to support 3G-SDI, simultaneous-output and VoIP, allowing for greater resolution, frame rates, colour fidelity and future trends for 4K systems.  
Also on display on stand 12.A31, is Ikegami's 4K monitor HQLM-3120W. The new monitor is equipped with two channels of 12G-SDI input as standard for efficient configuration with 4K equipment such as cameras and switchers.  
Another first will be two new monitors in Ikegami's HD 60 series the HLM-1760WR and the HLM-960WR. The HLM-1760WR is a space-saving 17 inch video monitor with low power consumption, wide critical viewing angle, excellent brightness and contrast, fast response time and faithful colour reproduction. Employing an LED-backlight Full HD (1920x1080) panel, it incorporates multi-format SDI, 3G-SDI, HDMI(HDCP) and VBS inputs as standard. The HLM-960WR is a compact and affordable solution for various broadcast monitoring applications. The new addition is a multi-format 9-inch monitor with Full HD (1920x1080) LCD panel and LED backlight available with 3G-SDI input comes as standard.  
Ikegami will also be showing a prototype of its new 4K HDR monitor and 4K POV camera for robotic or unmanned studio operation.  
ikegami.com
More Broadcast Cameras and Camera Equipment Stories