Broadcast News
07/08/2017
Liquid Media Hub Invests In PMC Speakers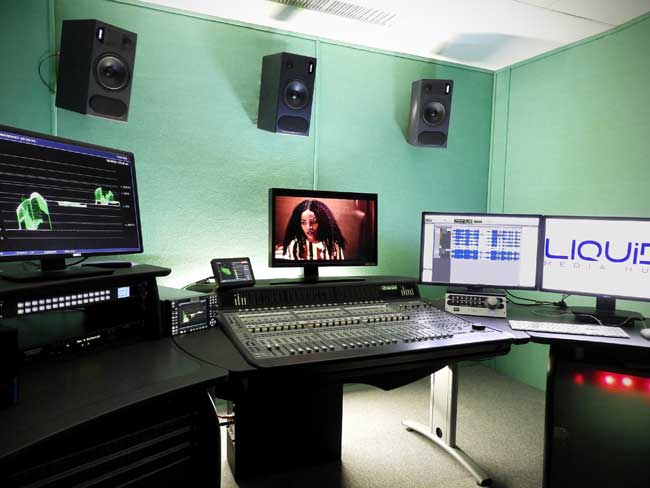 Liquid Media Hub has installed a combination of speakers in all three of its audio production suites.
The installation includes a combination of PMC twotwo.5 and twotwo.6 monitors.
Gary Edwards, Managing Director, Liquid Media Hub, said: "We chose a combination of PMC twotwo.5 speakers for the rear positions and twotwo.6 speakers for the front positions because we felt that we needed the greater low end that twotwo.6 delivers, along with a much fuller sound thanks to its increased cabinet and woofer size.
"The twotwo.5 and twotwo.6 are both good, clear speakers. We liked the clarity of sound, and the cabinet size each offered was the perfect fit for the specific positions in our production rooms. There was a minor question mark over ear fatigue during extended listening, but this has not proven to be an issue. We think the PMCs are the best of British speaker design and manufacture, and among the best speakers in the world."
Liquid Media Hub offers content management and distribution services covering all stages of the content lifecycle, including a complete video servicing package handling ageing formats and archive libraries through to HD and 4K/UHD standards, with delivery to any global broadcast or VOD platform.
"Our audio production suites are, to a degree, generic," Edwards continued. "Each has a KVM control interface enabling the operator to access any workstation and application from the control surface within the production room. We chose the same monitor hardware and used the same construction design techniques for each room so that they could be used interchangeably. This set-up means that any of the rooms can be used for audio post production, quality control or on- or offline video editing. We perform audio post production – that is, track laying, preparing final audio mixes for TV programmes, editing work and high end 4K/UHD broadcast QC, including loudness testing."
www.pmc-speakers.com
Top Related Stories
Click here for the latest broadcast news stories.