Broadcast News
26/07/2017
'The First Real Measurement Tool You Have Been Waiting For'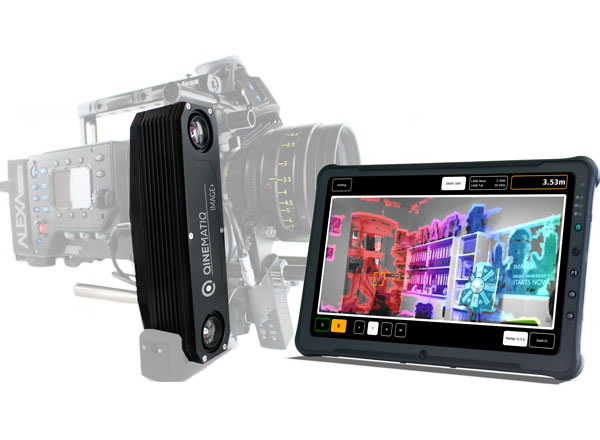 Having "caused a sensation" with its 3D depth measurement system with touch screen, Qinematiq, have announced the second generation of the focus pulling tool has been presented at the NAB and will be ready to ship at IBC.
The device is now not only smaller and lighter, but also measures faster and even more accurately. In addition, it is priced much cheaper.
Instead of 1.5kg, the system brings only 480g on the scales with significantly increased power and only 1/4 of the previous size.
This resulted in an attractive device, which can always be mounted on the camera in order to supply the focus puller and film makers with all positions of the motifs at the film set permanently.
The patented technology assigns precise distances to each pixel of a video camera through stereoscopy. A 3D image of the movie set is generated.
However, the usability and modularity is huge. From a basic measurement system to the Advanced Focus Pulling System, everything is now possible and can be modular combined. This allows the lens motors or a focus hand unit to be connected directly to the measuring device in order to obtain a very compact device for controlling the focus.
As an extension, the tool can be comfortably displayed via a touch screen on which all information is outputted. This user interface can be adapted for different situations if required. Among other things, it offers a permanent depth image, visualized distance information, multi tracking of different motifs, stored depth data, auto-focus possibilities and much more. The required distance value can be selected simply via a fingertip.
The 1AC can now choose whether to use a simple distance measurement tool or a complex "auto" focus tool. Hand units, from cmotion but also from other manufacturers, can be used via a serial interface to control the focus motor and output the distance of a selected subject.
IMAGE +, that is the name, not only offers added value at the film set, but can also be beneficial at the TV set, in the studio or during live productions.
Focus pulling remains an art and for a good movie it needs a good focus puller. But the tedious measuring and estimating the distances on the set will soon be a thing of the past.
qinematiq.com
More Broadcast Cameras and Camera Equipment Stories