Broadcast News
20/07/2017
Changing Studio Requirements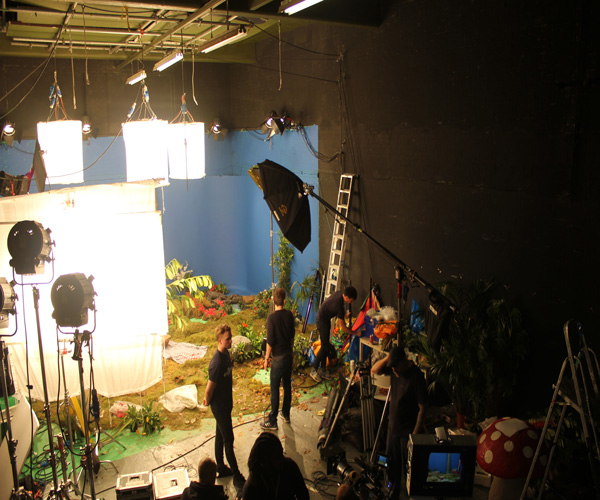 When we opened our studios in 2008 it was in the belief that there would be an inevitable demand for online videos, writes Andy Woodruff, Camberwell Studios.
This has only really become true in the last 12–18 months with the advent of job titles like 'Content Producer' becoming more common and an increasing number of YouTubers coming through the studios – usually under the guidance of a brand or a 'traditional' production company.
The first group of clients don't understand the filming process and make assumptions about what can be filmed and how much in a day. Make no mistake, these clients don't lack for creative smarts and have some great ideas, but inevitably we spend a lot of time explaining what is and isn't possible and why. We have also noticed that their ideas about production standards quickly jump when they do understand more about the realities of filming.
The YouTubers group is interesting. In 99% of cases no-one in the office has heard of them. When we do check them out, they always seem to have half a million or more subscribers – which would make any marketer sit up and pay attention. We presume that most of them will have made their name starting out with homemade videos. By the time they arrive in our studios they, or their sponsors, do care about production standards.
There is a third group – Explainer/Educational video production companies producing presenter-led and graphic heavy pieces to camera. These companies only exist because of the online world and were created specifically from that point of view. They care about standards and they care about costs. Mostly, they want a predictable filming environment.
In the end, everyone cares about standards. It's a natural consequence of wanting to do the very best you can.
What does this tell us about the future?
One thing is for sure – we're not heading back to any mythical glory days of hyper-inflated budgets – that's for TV and the global players, but I bet they are being squeezed as well.
Flexibility is our mantra and we think it applies more broadly than ever.
From the outset we sought to make the process of filming 'on-the-day' as easy as possible with an objective of taking away surprises and being prepared for any eventuality. Our smaller sound-proof studio has a 'pre-lit' set-up meaning clients can walk in, turn on the lights, get their camera out and start filming. This works for 90% and those it doesn't we have the back up in the cupboards.
Whereas we have been mainly known for green screen facilities in the future we are able to service blackout, 'fashion ready' white screen and green screen shoots from day-to-day without recourse to extensive repaints and re-setting. Industry pros such as Directors and DoPs know the pressures of budget constraints and appreciate flexibility and no one more so than the Producer.
New entrants will probably never care quite so much about production standards when they know 95% of their videos will be viewed on mobile phones and bedroom laptops. For them, the moment is now and speed to market is more important. From pitch to commission to film to release can be hyper fast, sometimes just days. They simply want the strain taken away.
Ready-made crews who can cover the bases to the standards required and who won't cost a bomb will never be out of work. They will demand robust flexible equipment from the kit suppliers and will always be investing to keep up.
I am constantly struck by how quickly top-quality film crews can be brought together. From the outside you would think they had all worked together loads of times but in reality the opposite is usually true.
We're lucky in the UK. We have some excellent colleges churning out eager, up-to-date, graduates as well as creatives from around the world coming to London to prove themselves.
For us the challenge will be bridging the gap between the different understandings of content creation, film-making and the marketers: doing old things in new ways.
www.camberwellstudios.co.uk
Top Related Stories
Click here for the latest broadcast news stories.