Broadcast News
28/06/2017
Ravensbourne Announces VRUK Festival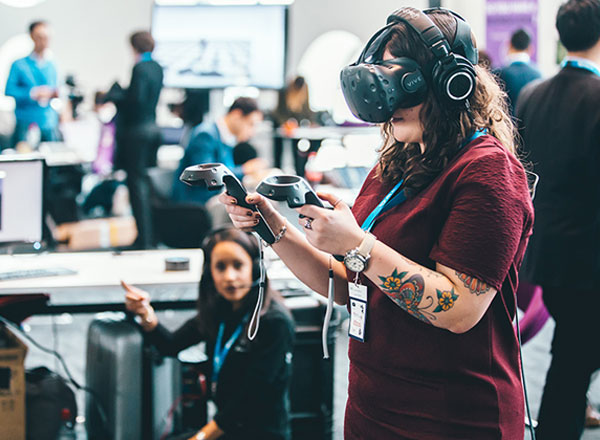 Ravensbourne has announced details of VRUK, its 2017 Virtual reality festival. The event will take place in London on 6–7 July.
VRUK, which is now in its second year, delves into the creative and technological potential of virtual reality. With VR having established itself as a new creative channel, the festival asks the question: what are the implications and opportunities for artists and content creators?
The event is designed to bring together technologists, artists and content creators to explore how virtual reality can be harnessed to produce cutting-edge creative projects. Throughout the two days, attendees will get the chance to hear from the leading figures in the VR sector, experience innovative projects from around the world, find out more about the latest technology, meet like-minded creative people and get inspired.
Speakers include Toby Coffey of National Theatre, Sarah Jones of 360 Immersive Lab, Sol Rogers of REWIND, Landia Egal of Wigal, Henry Stuart of Visualise, Tom Nelson of the Royal Opera House, and Kim-Leigh Pontin from Sky.
Thursday evening will play host to music performances Androdes and Reeps One who will also appear on the Audio in VR panel earlier in the day. Director of Reactify Yuli Levtov will also appear, who recently worked with producer/DJ Bonobo to develop a VR music experience.
In addition to the above speakers, the VRUK workshops offer an immersive, in-depth experience, and the Exploration Zone encourages attendees to try out some of the equipment and experience the latest VR projects from across various sectors. Exhibitors include Omniverse, Surround VR and Aftershock.
Gary Pritchard, Dean of the School of Media, said: "We've got a great line up for the second VRUK Festival and plenty of the latest releases for people to try, together with hand-on workshops to learn how to create your own content. Ravensbourne has a great reputation in this area and we're delighted to be supported by the Arts Council England this time around."
ravensbourne.ac.uk
vrukfest.co.uk
Top Related Stories
Click here for the latest broadcast news stories.