Broadcast News
23/06/2017
Shure UHF-R Systems Tap Into Smash Success For 42nd Street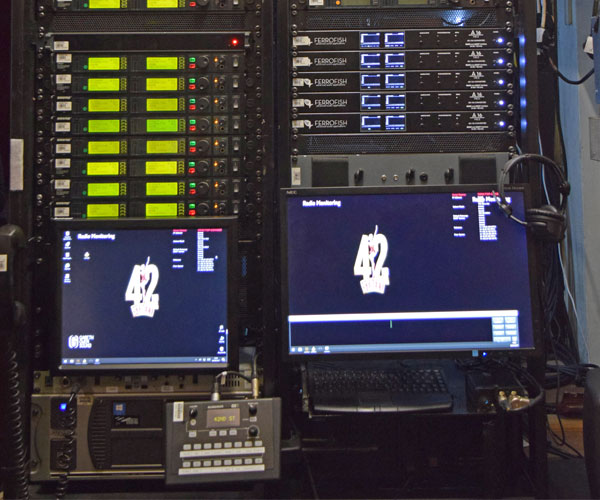 The new UK production of the classic musical 42nd Street, playing since April this year at the Theatre Royal Drury Lane in London's West End, has been an unmitigated success since its press night produced a swathe of five-star reviews from all the critics.
Behind the scenes, the musical is also breaking new ground, with over 80 channels of Shure UHF-R wireless microphones (UR1M transmitters and UR4D receivers) in use at any one time — if not a West End record, then certainly one of the shows with the highest wireless channel counts in London theatre history.
Award-winning Sound designer Gareth Owen is responsible for all of the audio infrastructure on the 42nd Street revival, and has been a long-time user of Shure wireless systems. He said: "Ever since they released the UHF-R system, we've had good results... and when I find a system that gives me good results, I stick with it."
Given that 42nd Street has run on the West End before without such a high number of wireless microphones, what pushed the channel count so high for the revival?
"It's the huge cast of 42nd Street that does it," Gareth's Associate Designer Olly Steel added. "There's never fewer than 42 cast members on stage at any time, they all sing at some point, and we double-mic the six principals to guard against sweat damage to the transmitters... so before you even start to think about spares, we're over 60 channels."
And as Olly goes on to explain, the feet of some of the cast and chorus are also miked up so that the live sound of tap-dancing feet can be clearly heard in many of the musical numbers. The so-called 'tap mics' add another 24 channels to the wireless total.
The high wireless channel count is also a function of the increasing ease of use of such systems, as Gareth Owen explains: "Transmitters are much better built these days, they're more compact and don't run so hot, and if they're dropped, it's not as serious as it used to be, because being lighter, they don't land with so much force... the technology has really matured."
The production's Deputy Head of Sound, Reese Kirsh, who is part of the 42nd Street backstage crew comprising Wes McCann, Sarah Dickson and Nikki Hulme, puts it another way: "You don't have to be so selective about wireless any more, basically! The UR1M transmitters perform well, and they're a very convenient size — they're my favourite pack to use."
Of course, many of the frequencies formerly used by West End shows for wireless mics have been rendered unusable since the post-Digital Dividend spectrum auctions in 2012, and licences to a further large slice of the RF spectrum currently used by theatre productions are due to be put up for auction next year. Was RF frequency planning for 42nd Street more of a challenge than it might have been a few years ago? Undoubtedly, explains Olly Steel: "There was initial concern at the high RF channel count in the planning stages of this show, but in practice, the challenge has been more about having that kind of high channel count in that location, right near half a dozen major theatres who are also using wireless, and in the middle of London, which is itself a fairly RF-heavy environment.
"That it works is down to clever frequency coordination and planning, which was thanks to Orbital Sound."
Brixton-based Orbital Sound supplied all of the audio and communications infrastructure, including the Shure radio mics for 42nd Street, and the company's Technical Director, Bill Addison, was responsible for the frequency plan. He admits that running the requisite number of wireless channels was a stretch, but just about achievable in 2017.
He said: "It was quite tight for an analogue radio mic system like this. If we tried to do the same project in five years from now, though, after the loss of the 700MHz band, I think we would really struggle. Digital radio mic systems, like Shure's new Axient Digital, will help with that to a certain extent, as they're more spectrum-efficient — you can pack a higher number of channels into a smaller range of frequencies."
Shure's Wireless Workbench 6 proved its worth during 42nd Street's technical rehearsals in the Spring, and specifically the real-time RF performance log captured by the new Timeline function, as Deputy Head of Sound Reese Kirsh admits: "We're using the updated version of Wireless Workbench 6, 6.12.1. The Timeline function was a godsend for monitoring RF quality over time during rehearsal... when we were checking how the radio mics were working, we could look back and see the data around signal interference issues, and see exactly what wasn't going according to plan instead of educated guesswork after the event.
"It's been a real game-changer, that. We also use Workbench for real-time monitoring of the systems, to keep us informed of battery levels and so on."
During extensive technical rehearsals throughout February and March, the large-scale wireless system was strenuously tested and deemed fit for use. Since the show opened in early April, the Shure UHF-R system has performed flawlessly.
Bill Addison concludes: "I think some of the non-technical staff on the production were worried about the number of wireless channels much more than I was.
"Once I'd done the frequency planning, and sorted the licensing with Ofcom, it just seemed much like any other radio system for the West End. 42nd Street uses twice as many staff as you would have for a 40-channel system, twice as many spares, twice as many aerials... everything is literally doubled up, so other than the fact that we needed a lot more frequencies, I didn't really see it as a huge deal."
42ndstreetmusical.co.uk
shure.co.uk
garethowensound.com
orbitalsound.com
Top Related Stories
Click here for the latest broadcast news stories.